News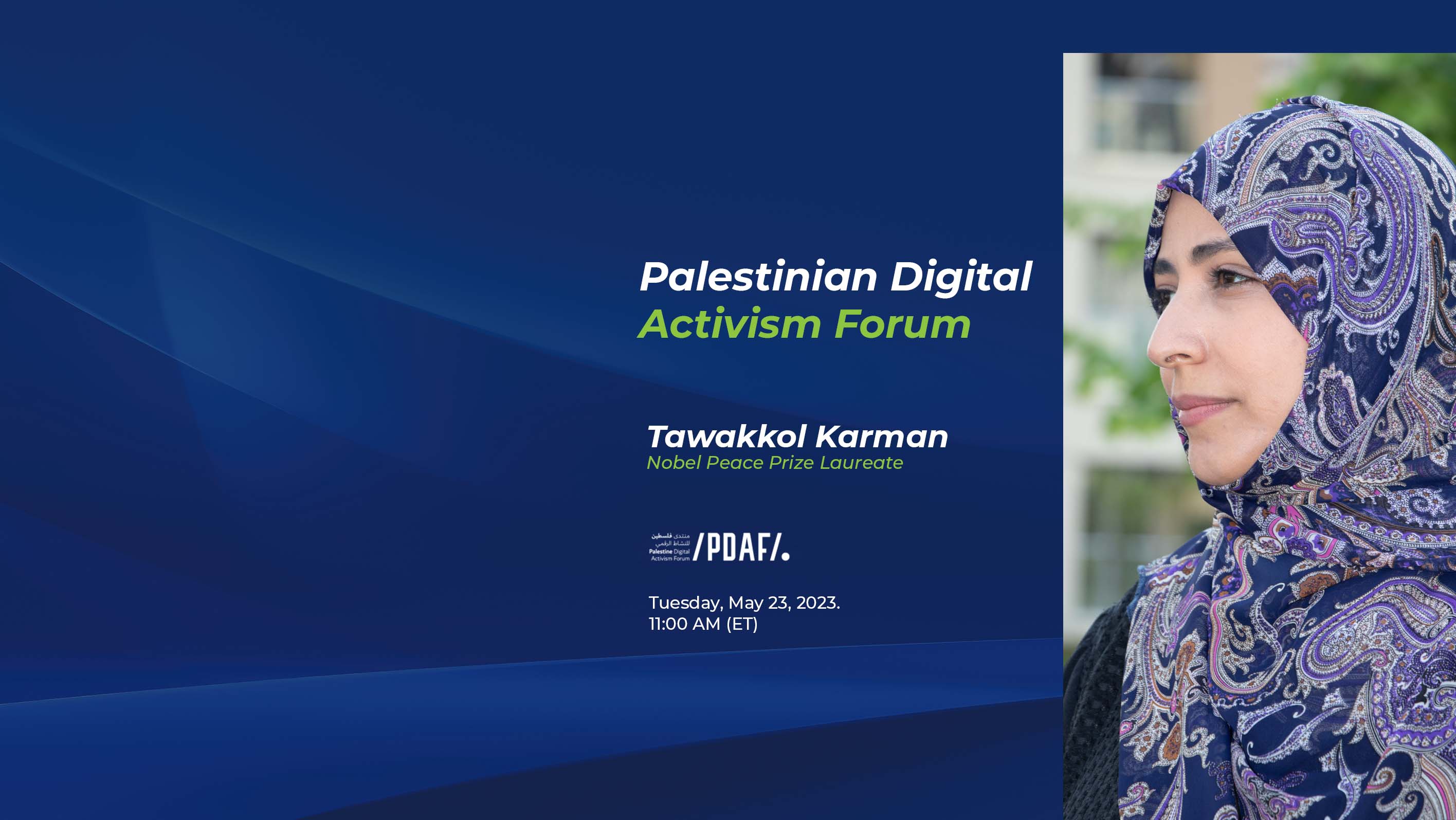 Tawakkol Karman joins Palestine Digital Activism Forum 2023 as keynote speaker
As part of the Arab Center for Developing Social Media's campaign, tomorrow the Nobel Peace Prize winner and human rights advocate, Tawakkol Karman, is scheduled to deliver a keynote speech at an event organized by Palestine Digital Activism Forum 2023,
which has been arranged in partnership with the Global Advisory Council on Facebook and Instagram.
Tawakkol Karman is going to deliver a keynote address at the Palestine Digital Activism Forum 2023, the preeminent digital event focused on advancing Palestinian digital rights. This three-day forum, to be held both in-person and virtually from May 23 to May 25 of this year, will provide attendees with insights and strategies for advancing digital activism in Palestine.
With over 90 speakers and trainers from local, regional, and international backgrounds, the forthcoming forum is being organized in collaboration with 45 top organizations. Participants include Irene Khan, the special rapporteur on the promotion and preservation of the right to free expression, and Francesca Albanese, the special rapporteur on the state of human rights in the occupied Palestinian territory. Important social media corporations including Meta, Zoom, Google, and Wikimedia will also be present at the forum.
The Palestine Digital Activism Forum 2023 is a unique platform that offers a comprehensive agenda, including policy sessions, panel discussions, and workshops, that delve into various facets of digital discrimination against Palestinians. Participants will engage with leading technology companies and the Facebook Oversight Board, while also exploring essential topics such as enhancing digital safety through Google tools and leveraging Meta platforms to raise awareness around underrepresented communities' causes.
By creating a space for constructive dialogue, the Palestine Digital Activism Forum aspires to safeguard the digital rights of Palestinians. It fosters collaboration and positive engagement among Palestinian civil society and digital activists worldwide, empowering them to advance their digital rights globally.
Furthermore, the Palestine Digital Activism Forum recognizes the significant risks faced by local digital activists and seeks to facilitate the exchange of experiences and expertise. It promotes collaboration in finding solutions by connecting local civil society organizations and popular movements with their international counterparts.
By encouraging cross-border cooperation, the forum aims to strengthen social media activism within and outside of Palestine, amplifying the voices of digital activists in the ongoing struggle for Palestinian digital rights.