News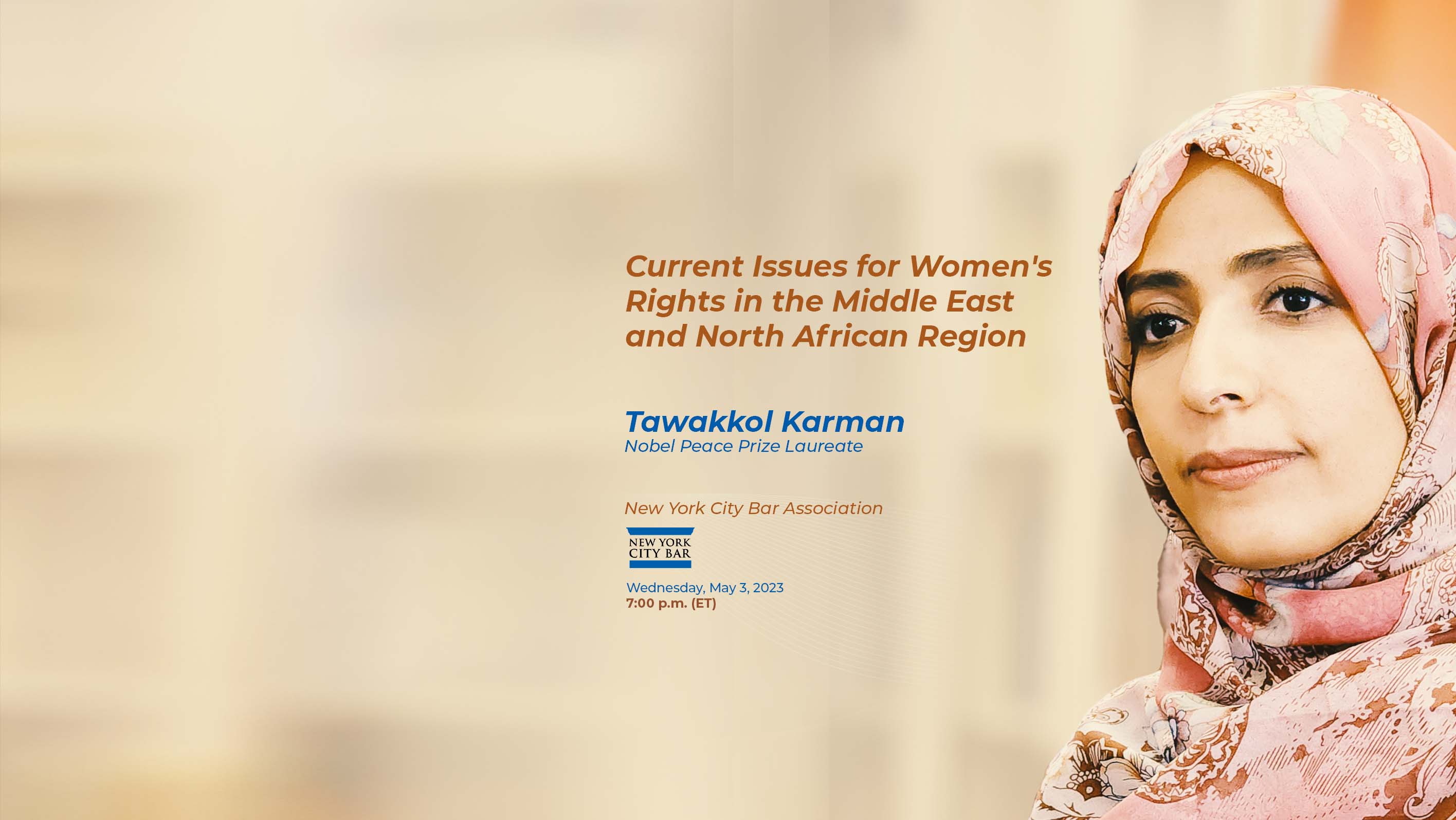 A call to action: Mrs. Karman heads discussion on advancing women's rights in MENA region
In New York City, USA, on May 3, 2023, activist and Nobel Peace Prize winner Tawakkol Karman is set to will take part in a global event on women's rights in the Middle East and North Africa.
The program panel on women's rights in the Middle East and North Africa will be headed by Tawakkol Karman, the well-known human rights activist and Nobel Peace Prize laureate, who will be joined by Rose Parris Richter, a former Chief of Staff for the UN Special Rapporteur on Freedom of Religion and Belief, and Elizabeth Stone, a respected US Bankruptcy Judge from the Eastern District of New York and Co-Chair of the Committee on Middle Eastern and North African Affairs, where she has been actively involved in the education and development of women jurists in the region for several years.
As part of the panel discussion, Lauren Schmidt, the Chief Experience Officer & Founder of a tree that grows, will speak about the challenges confronting women in Afghanistan and Pakistan. Abed Awad, a Palestinian-American lawyer and Adjunct Professor at Rutgers School of Law, who specializes in representing Muslim women in cross-border custody and matrimonial lawsuits, will also be addressing the representation of Muslim women in cases of custody and international marriage. 
The insights and perspectives shared by these two distinguished experts promise to enrich the discussion and deepen our understanding of the issues facing women in the region.
This event, titled "Current Issues for Women's Rights in the Middle East and North African Region," will delve into the progress, power, and challenges encountered by women in the MENA region. The event will showcase notable experts on women's rights and status in the region, who will offer valuable perspectives on the multifaceted and intricate issues that women face in the Middle East and North Africa. 
The event aims to challenge Western stereotypes that tend to portray the region as monolithic and shed light on the nuances of the political, economic, and religious practices in the region and the Islamic world.