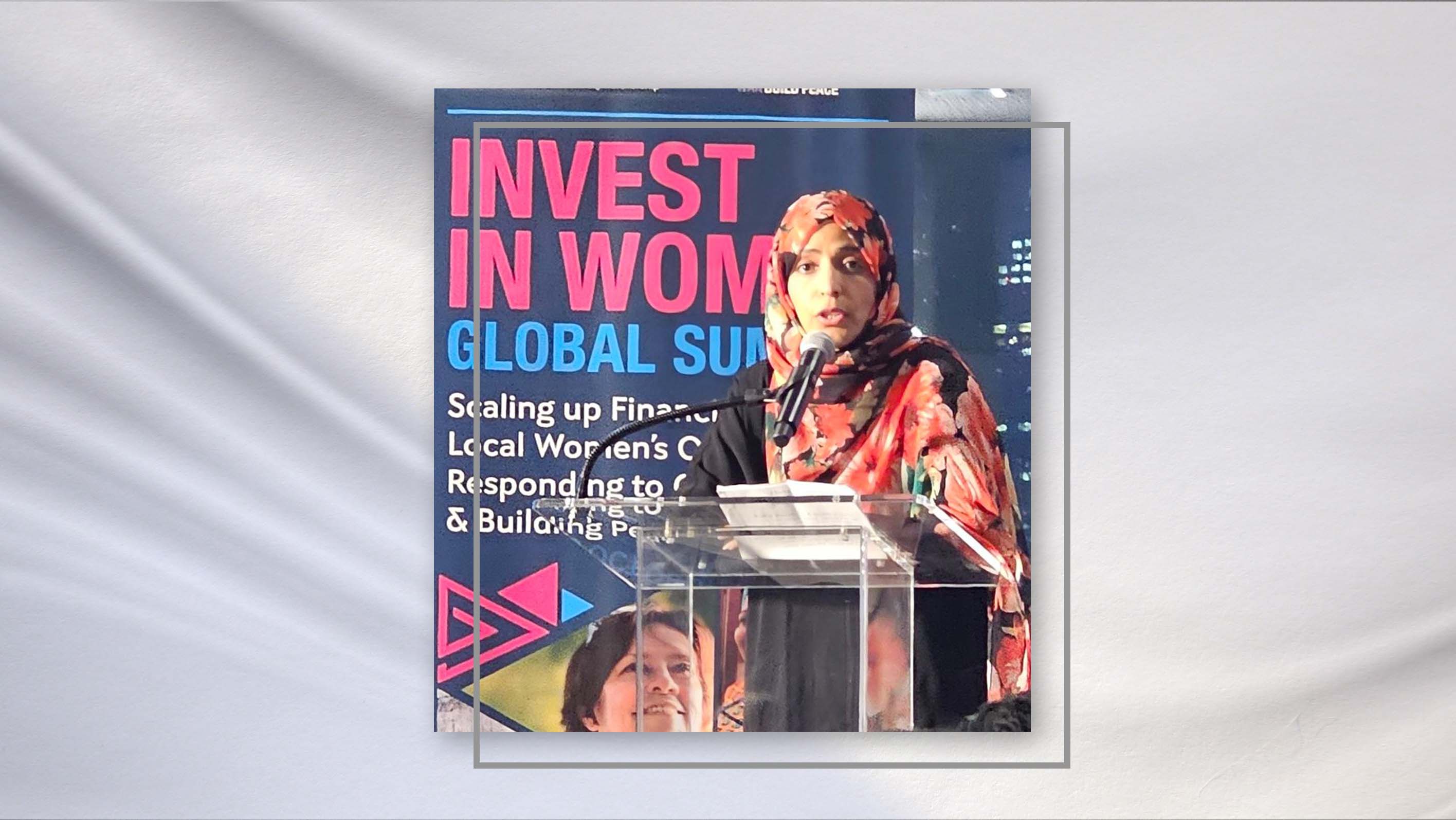 Mrs. Karman's Speech at "Invest-In-Women" Global Summit at UN Headquarters
Hello everyone,
In our current global landscape, we are witnessing a decline in democracy and freedom. Civil society is experiencing a consistent erosion, and the progress achieved by women in our societies is being undermined by the escalation of conflicts, the rise of authoritarian regimes, the recurrence of coups, and the prioritization of geopolitical interests by major powers, often at the expense of principles such as justice, democracy, and human rights.
Efforts to enhance the role and participation of women in the progress of their societies occur on two interconnected fronts. Firstly, it entails addressing the challenges posed by tyranny, wars, coups, and occupation, which hinder societal development. Secondly, it involves engaging in developmental initiatives, such as promoting education and healthcare, empowering women economically and politically, fostering civic values, supporting movements and organizations that advocate for democracy, development, women's rights, and human rights, and confronting instances of violations and marginalization that disproportionately impact women.
Without their cause being a part of the cause of the entire society's emancipation from dictatorial regimes, invading regimes, and militias, women will not have the proper leadership position in our societies.
Sustaining the global interconnection between the feminist movement, local and international civil society organizations, and donor countries is crucial in making a meaningful impact on women's issues, their roles, and their participation in shaping their societies.
Nevertheless, all of this, will remain limited unless women assume their rightful place and unless we stand by them in their fight for freedom from oppression, the workplace, and persecution on the political, social, and economic fronts.
In this context, alongside my fellow Nobel Peace Prize laureates, I demanded an immediate end to hostilities and an end to any instances of targeting civilians—especially women and children—in a joint statement. We demanded that all hostages and captives be released immediately and that they be spared the horrors of war. We called for the removal of the blockade and condemned the deprivation of electricity and water as acts of collective punishment, which we deemed to be flagrant crimes against humanity.
I reiterate what we previously stated: the international community must push for the application and enforcement of international treaties and legislation that specifically demand an end to the occupation, the return of refugees, and the Palestinian people's right to self-determination and the creation of an independent state within the borders of 1967. 
To truly understand the current escalation of violence, it is crucial to recognize the underlying causes and origins, notably the enduring Israeli occupation of Palestinian territories. This occupation has had severe repercussions for the Palestinian people, including displacement, persistent settlement policies, the expansion of settlements, the imposition of blockades on Palestinian cities in the Gaza Strip, and the deprivation of Palestinians' access to vital resources such as water, food, medicine, and basic services.
The Israeli authorities cutting off energy, water, food, and fuel to Gaza is unfair and wrong. It punishes everyone, especially women and children, and goes against basic human rights.