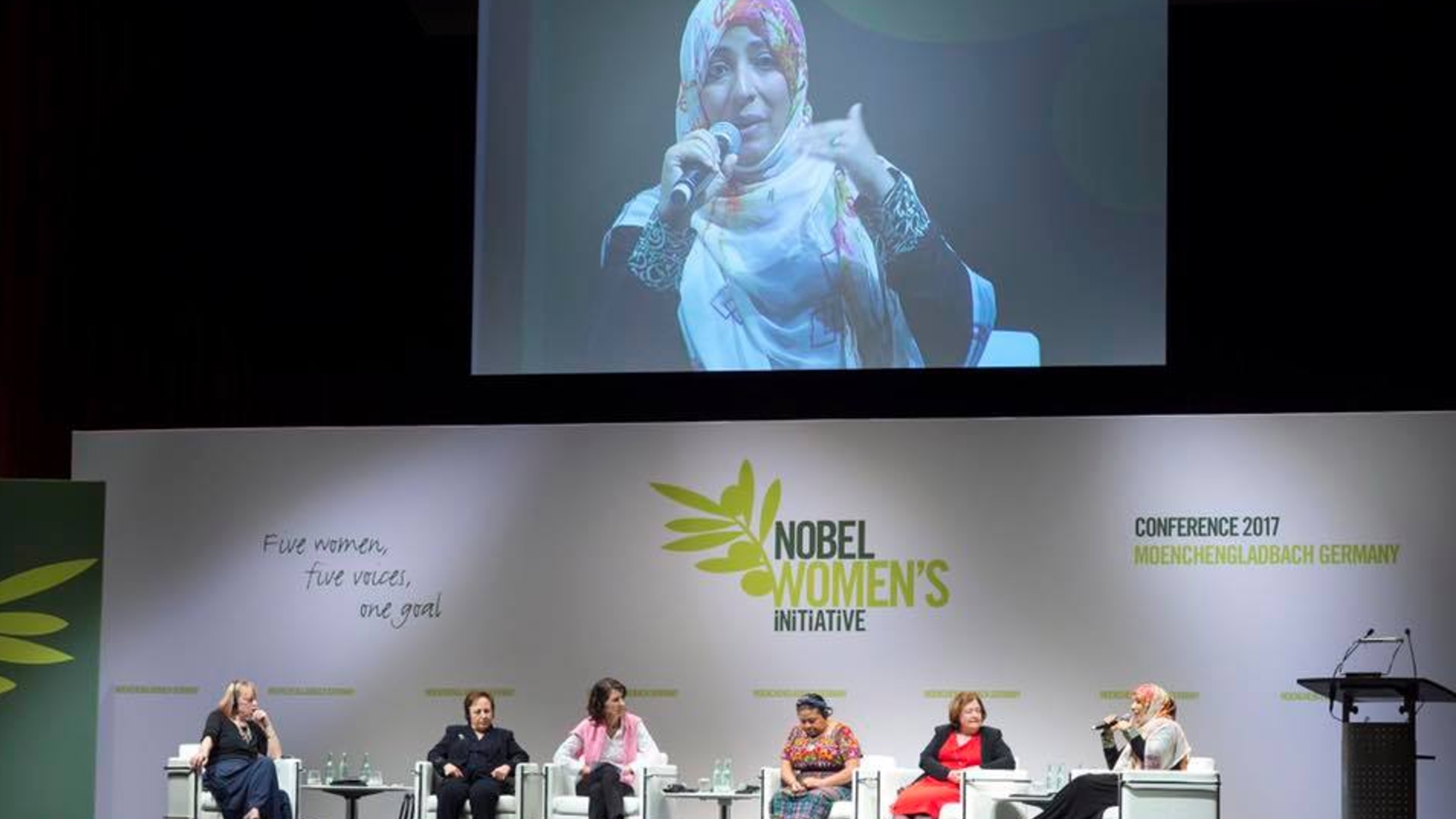 Mrs. Tawakkol Karman's speech at the opening session of Nobel Women's Initiative biannual conference in Germany
The human rights activist and Nobel Peace Prize laureate Tawakkol Karman today delivered a speech at the opening session of the conference "Global Feminist Resistance: the evolution and revolution, adapting to survive thrive" in Germany with the participation of women from around the world.
Dear friends, 
At the outset, I would like to welcome all of you. I think it is a very good occasion to meet here in order to talk about a subject, which is impressive and a source of more pride at the same time, namely the feminist resistance, its evolution and its ability to bring about fundamental changes in the level of ideas, relations and political, social, economic and cultural structures.
Women have immensely contributed to the development of human civilization, and despite the clarity of this fact, they haven't been immune to violations, exclusion and marginalization. For different reasons, authorities in all forms and at different levels have kept treating them with hostility.
When reading the history of women, we realize that this history is a combination of braveries and grievances. This brings us face-to-face with a great challenge regarding the extent of our ability to do women justice, especially in light of the persistence of social inequality based on gender differences, which should not continue.
There is another distinguishing feature of women throughout the ages. I think, with all modesty, women have a natural instinct to resist; wherever going around the world, women are found to be among the ranks of those resisting poverty and political, religious or social tyranny. Women's voice, no matter how dim, remains audible and influential.
No one could impose restrictions on women forever, and whoever tries to commit this disgraceful act would discover that it was wrong to bet. Just as there is no way to bury the voice of freedom, so on one could bury the voice of women as well. 
Dear friends, 
The history of the world is full of tales of women who were able to lead their countries successfully and wisely, but the stories that are ignored to this day are those associated particularly with working and rural women who are role models in term of willpower and endurance, and have made an active contribution to development amid inappropriate conditions.
Almost 160 years ago, accurately in 1856, thousands of women demonstrated considerable courage on the streets of New York as they marched in protest against the inhumane conditions they were forced to work in, prompting political officials to put the problem of working women on the daily agenda. This was an important step on a long and arduous road to obtain the most basic rights. 
In 1908, thousands of textile workers demonstrated again on the streets of New York, carrying the slogan "Bread and roses" to demand a reduction in working hours and a halt to child labor as well as to grant women the right to vote. 
The march was the beginning of a feminist movement in the United States after women from the middle class joined the wave of support for political rights, especially the right to vote. This feminist movement was not exclusive to America, but it was part of a women's revolution that extended to almost every country and contributed to correcting many of the imbalances that placed women in an inappropriate position.
Dear friends, 
Women's movements have had the greatest impact on the development of societies' sensitivity to rights and freedoms. The more women obtain their rights and receive the necessary appreciation for them as a human being, the more men get access to their rights. 
As a result of the expansion of education and technology, people no longer believe in myths that underestimate women's competence and ability to fulfill their own responsibilities. Even in countries experiencing great poverty or wars and armed conflicts, women have managed to overcome these frustrating situations and carry out the same tasks performed by men. 
Women have been misunderstood in the past centuries. They have often been considered easily breakable glass organism, but this misunderstanding is facing great difficulties to survive. 
Historically, women have decisively participated in revolutions and in making economic renaissance in many countries of the world. It is worth mentioning here that a report by the International Economic Forum published in October last year concluded that women work 39 days more than men a year.
Women constantly seek to strengthen their presence, struggling tirelessly for their families, communities and countries. However, what is worrying is that those, who exploit women economically and sexually, often do so under religious or social banners.
Within this context, more efforts must be made to stop the targeting of women. The world should not turn a blind eye to the humiliation of women.
Dear friends, 
At every turning point, women have had a role to play. A security review of history would clearly reveal this fact.
Six years ago, Arab countries, including my country, witnessed revolutions against tyrannical regimes starving people and pursuing corrupt policies, which pay no attention to people's interests. It was surprising to many observers how large and influential women's participation in the change.
With the rise of counter-revolutions and bloody military coups, women have paid a heavy price, but this did not break them. Women demonstrated strength and courage in their movements. For example, despite the fact that all aspects of civil action against coup forces has stopped in all areas seized by these forces in Yemen since the war, mothers of abductees and detainees still organize protests in front of illegal detention centers.
Today, women in Yemen and many countries in the world are facing oppression with imperturbability and steadfastness, and resist marginalization and the culture of discrimination. At the same time, they are working with all their strength and utmost efforts. This is the real struggle, and this is the life we must fight for.