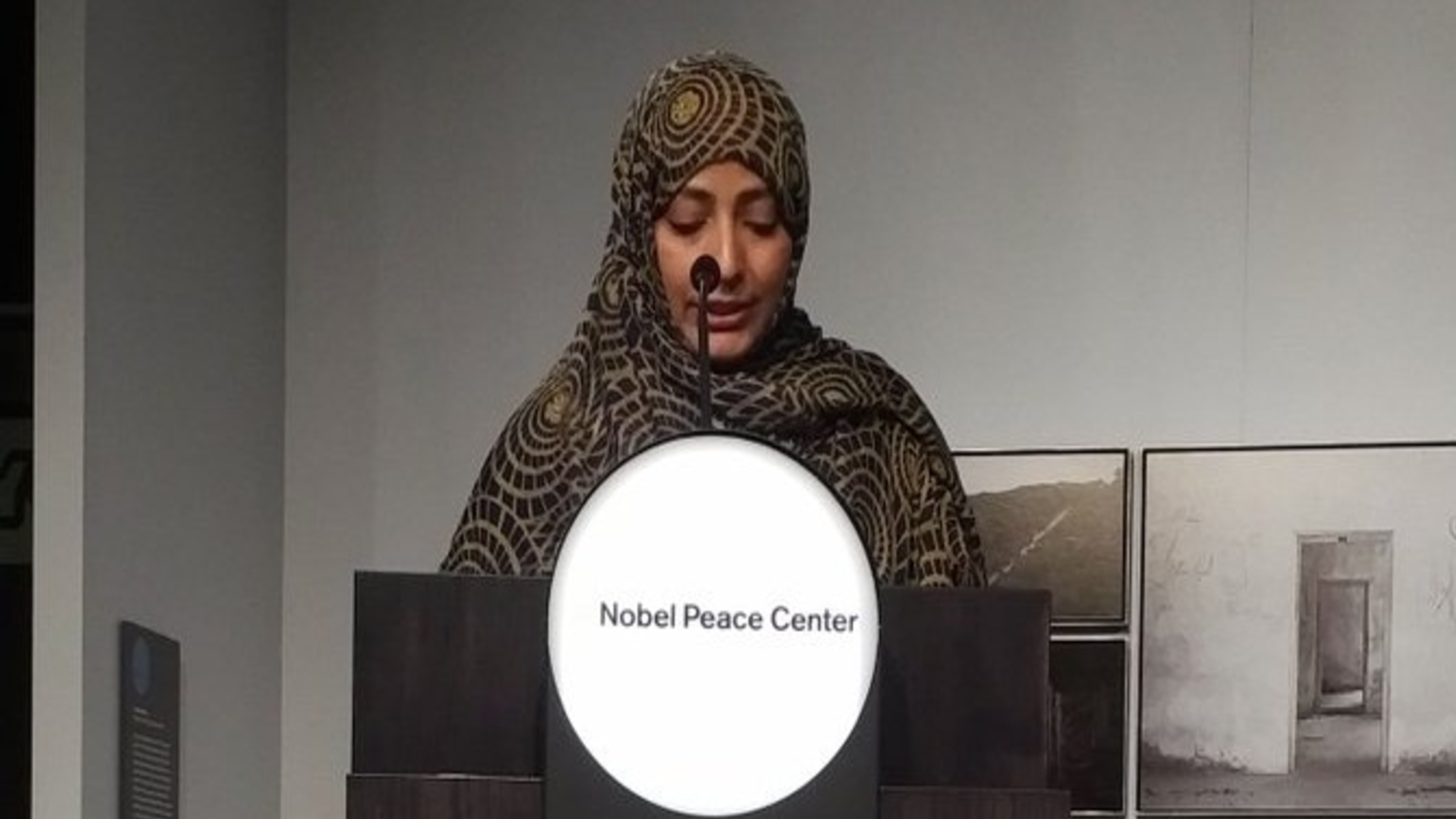 Mrs. Tawakkol Karman Speech at Nobel Peace Center Norway
The world highly praises the Nobel Prize, and people are well aware of its importance, so whoever receives this reward might think they have achieved everything.
For me, the prize has provided me with an incentive to more work and struggle for my vision towards my country and the world as a whole to prevail. I have great dreams and I would never allow anything to drive me to despair or frustration no matter what happens. 
Being a Nobel laureate means that you have been an important figure, even if you think otherwise. For me, I have always considered myself a fighter for only real peace and true justice. Many of those who made themselves enemies of me are asking, "Is it not enough to have bogus peace and justice, even for just one time, for victims? In return, I will say what I think is right:  no, I cannot, it is not me who promotes a phony peace, not me at all.
Being a Nobel laureate means that you have not to contribute to directing a fake play. Ultimately, the pursuit of peace is not something mysterious, or a mandate for tyrants to oppress victims; such a thing is unfair.
To be a Nobel laureate means to tell the truth, no matter how harsh it seems. Peace means not only stopping the war, but rather preventing repression and injustice. There may be many countries free from wars, but they suffer a lot from countless violations such as killing, torture, crackdown on freedoms, enforced disappearance and etc. Simply put, they never enjoy any peace.
I get more attracted to the idea that there is no peace without justice, as any peace done without any regard for justice will be nothing but a fragile peace being much close to a war break followed by what would be harder and worse; such a peace would be only a temporary truce with very collapsible foundations. 
A state of war within countries, therefore, prevails not only when conflicts, crisis or civil wars erupt, but also when there is an absence of justice in societies where human dignity is violated, basic rights of citizens are confiscated and freedoms are severely restricted.
Such a society lacking justice cannot be considered to be in a state of peace, as suffering from tyranny is the most severe aspect of war. In the balance of human dignity, there is no difference between the deprivation of the right to life and denial of rights and freedoms.
People need a map of struggle that will enable them to build a sustainable peace through justice, which cannot be achieved without fulfilling the right of citizens to enjoy basic rights and freedoms. We are achieving a great peace when extricating societies from the hell of tyranny and moving them into the paradise of freedoms. Those who followed this path of struggle, whether they were individuals or organizations starting from Martin Luther King to Shirin Ebadi and Amnesty International, were crowned with the Nobel Peace Prize.
These inspiring heroes have fought a great struggle for freedom, and for the enjoyment of human rights or, let's say, for the sake of peace-building, no difference. So they were rewarded the Nobel Prize as inspiring and exceptional champions.
Being a Nobel laureate means to be in the ranks of the oppressed regardless of religion, nationality, language, color, or beliefs. If you are truly aware of the spirit of the Nobel Prize, you must be a sword of truth and law in the hands of the oppressed. We just have to keep in mind that the oppressed would not remain silent forever, and that if there is no horizon for a peaceful change, a violent one will unfortunately come out.
Be not tolerant towards injustice and those behind it! Let us be honest enough to say that we should not tolerate and recognize the tyrants, as not doing so would be a betrayal of all the values and spirit of Nobel, and of a long line of courageous people who have fallen defending true peace, true justice and true freedom.
I believe that being against injustice and oppression is a struggle for peace. We will have built a great peace when injustice stops and repression disappears. Just look around, you will find out that behind every internal or external war is a tyrant who oppresses own people.
our region from east to west lives in a peace-free state, and people are exposed to this kind of war, the war of dictators on their people. It is true that the percentages are different, but no one is untouched.
Dear friends, 
The wars ravaging the whole region as you see have no bosses or fathers except tyrants. Take a closer look at their speeches, policies,] and victims, you will come to the fact that destruction is an exclusive brand of tyrants.
Here, it must be emphasized that violence should not be used as a means to resist tyranny because violence has dire and devastating consequences. But what should be said bravely and without hesitation: the ongoing wars and injustices are caused not by revolutions of peoples who long for freedom and democracy, but by this tyranny that seek to enslave and humiliate peoples. 
We should not fail to describe what is going on properly so as not to mislead into saying that popular uprisings, protest demonstrations and sit-ins are a crime committed by those struggling for freedom, fighting against injustice and defending human rights. Otherwise we would have made grave mistake against people for two times, once when giving them up without doing anything to ease the war of tyrants on them, and the other time when dealing with them as perpetrators rather than victims.
Being a Nobel laureate means not to join the chorus of tyrants, and the notebook that will be filled with flimsy excuses would not help before your conscience, before our conscience, and before the conscience of victims.
To be a Nobel laureate means to remain steadfast in speaking up for the right of peoples to have their own decision and be free from fascist and anti-human rights governments and regimes. 
Dear friends, 
We have to believe, and let people also believe, that it is feasible to overcome oppression and violence without resorting to counter-violence, and that we should commit ourselves to the peaceful struggle to achieve the desired goal and have governments, which guarantee rights and ensure freedom as a strategic option. This option, on the one hand, must be upheld and instilled as a discipline into all of us. On the other hand, we have to make clear that societies dominated by oppression and injustice are unhealthy environments and carry the seeds and factors of conflict in all its forms. The reason for this result is the failure of corrupt and despotic regimes, but not the advocates for state of justice and law.  
In this context, we can ask questions such as why the Arab Spring happened? How to look at it? And what is the mechanism to deal with it?
Well, transient setbacks of the Arab Spring revolutions in several countries are being used so badly to claim that the struggle for freedom and anti-tyranny in the region are nothing but strenuous efforts to undermine peace.
Part of the regional conspiracy to thwart the Arab Spring revolutions has become obvious: to prevent the infection of the Arab Spring revolutions, which broke out in 2011, and any future recurrence by resorting to distorting and defaming popular uprisings in Syrian, Libyan and Yemen where people dared to chant slogans of freedom in the face of their life-long rulers. 
These regimes believe they are God's destiny on the face of the globe. Through their various means, they are using everything now to promote and intensify this idea so that it will be remembered by the people as an absolute reality. But all this is nothing but futile attempts that will not withstand the struggles of young Arabs who aspire to freedom and dignity.
What everyone should realize is that the Arab Spring was neither a reckless whim nor an emergency, but an unavoidable necessity imposed by regimes of tyranny, oppression and failure, and it will take place over and over again as long as regimes of oppression, tyranny, corruption and failure exist.
Finally, being a Nobel laureate means not to betray your conscience. Nothing in this world deserves to sacrifice your conscience for it.