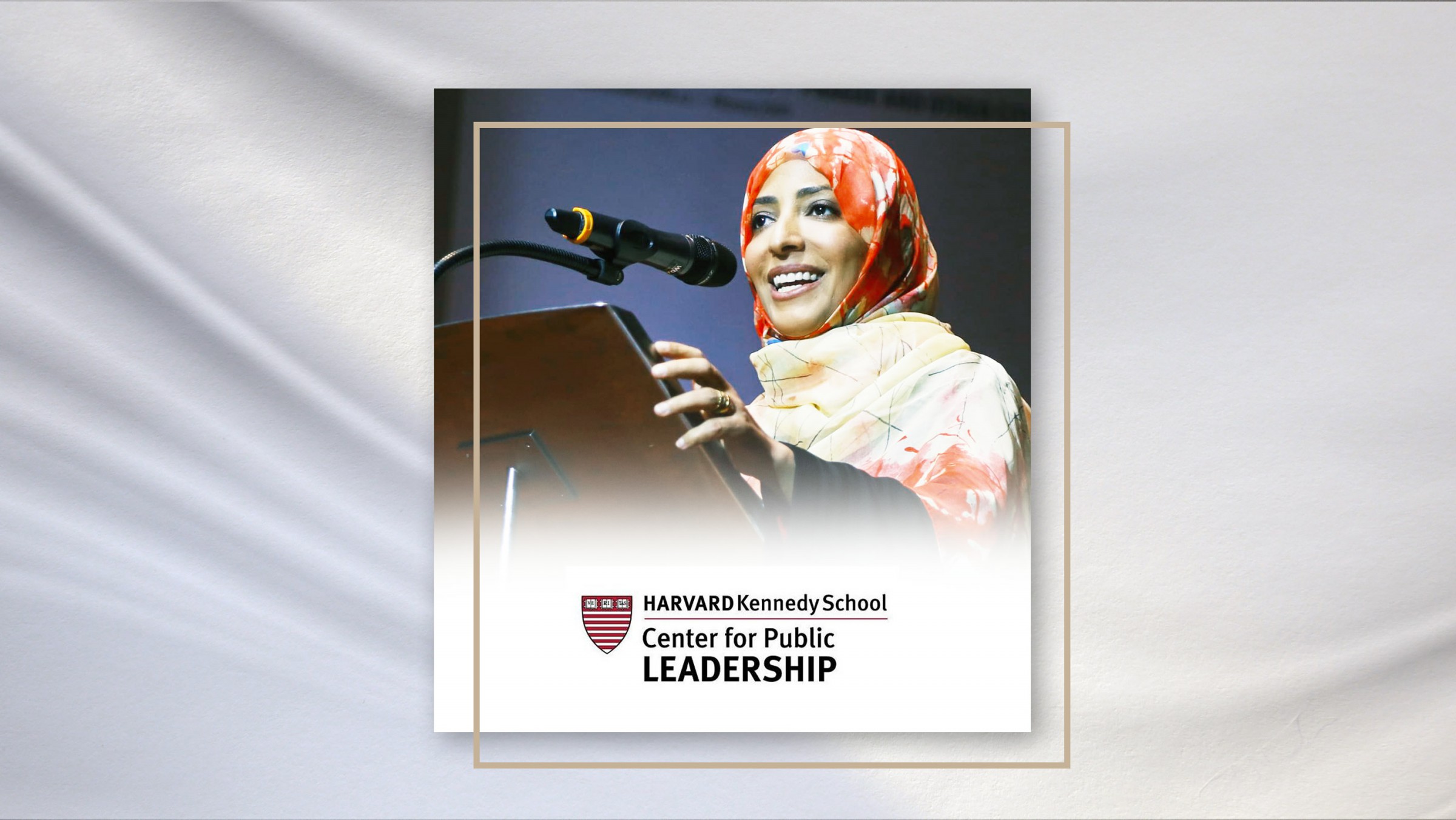 Speech by Mrs. Tawakkol Karman at Harvard University
It gives me great pleasure to meet you again in this great edifice, Harvard University, which symbolizes knowledge, pride and respect. Just as anyone believing in the importance and sanctity of science,
I would like to thank you very much for your affiliation with science, and for keeping Harvard University among the world's most leading and well-known universities.  
Dear friends,
The world is buffeted by many issues and cases of varying complexity. But either way, it is our responsibility to identify the real roots and causes of conflicts and crises and at the same time develop rational and acceptable solutions, refraining from all forms of misinformation and misleading campaigns driven by political and economic gains.  
In this context, Western governments seem to be involved in somehow in obstructing the democratic transition in the Middle East under unfounded pretenses. Many of these governments have dealt with lies by the Middle East's tyrants and despots as truths. Instead of blessing the Arab Spring revolutions and encouraging a political and democratic transition that protects freedoms and prevents human rights violations, they have given their support for anachronistic regimes founded on repression, theft and dictatorship.
Today, the human rights situation in the Middle East is going from bad to worse. The Western government has intentionally or unintentionally helped Arab tyranny revitalize. And not only that, they have met violations and crimes of these regimes with silence, which is why we ask whether democratic and liberal values still work in western countries that have gone a long way in this regard.
Dear friends,
A broad US-led anti-terror coalition has been established. However, the fire of the war on terror, which is indeed just and inescapable because terrorists pose a threat to their societies, religion and all civilizational gains, has unfortunately extended to democratic forces, human rights, freedom press, human rights activists and politicians.
This is clear at least in the Middle East. So why are the regimes, which misuse the war on terrorism, not be held accountable? They are themselves terrorists as they publicly and openly practice state terrorism. I believe that human rights violations should be remain top priorities for us as defenders of human rights and freedoms. It is not reasonable to be silent on all the violations, repression and terrorism.
It is truly shameful that the claims of despotic regimes in the Middle East are treated as indisputable facts. Under the cover of the "war on terror", all forms of incitement to civil work and human rights activities are practiced, and acts of revenge by regimes have affected journalists and political activists for their advocate for freedom of expression and calls to stop policies of repression.
As I always say, terrorism and tyranny are two sides of the same coin, each feeding on the other. Tyrants need terrorists to wash their own crimes as a way to legitimize their regimes and win Western satisfaction. On the other hand, terrorists need tyrants to impersonate heroism, while in fact they do nothing but kill innocent people and openly opposes every idea that calls for civilization, urbanization and rationality.
Dear friends,
About nine years ago today, the Arab peoples took to the streets and squares demanding their right to live in dignity the same way as others in America, Germany or Canada. As you know, among these demands were democracy, respect for human rights and the right to choose rulers through free competitive elections. But something horrific happened when counter-revolutions were launched and funded by military and armed militias as an attempt to turn the clock back.
Today, enormous efforts are being made to confuse matters through lies and propagandas. Ironically, despots and those involved in war crimes and genocide are the ones Western politicians and many Western media like to cite. It must be absolutely clear that a terrorist is not the one calling for democracy and freedom of expression and believing in the principle of accountability, but rather the one who kills such great ideas.
Just as there is a small terrorist who targets innocent people in streets and blows himself up in cafes, schools or places of worship, there is also a big terrorist who represses people and misuses the law if state to send fear into them. In the end, both terrorists serve as enemies of the Arab Spring revolutions, and of our peoples' aspirations for freedom and equality.
Terrorism has suffered a devastating blow thanks to Arab popular uprisings. Terrorists have found outh that they are isolated, that they represent nobody but themselves and that the Arab peoples have chosen peaceful and popular demonstrations as a path of change. This fact has made them in a great moral dilemma. So they hired a group of religious extremists and fanatics to accuse peaceful demonstrators of disbelief, treason, immorality and promiscuity.
They did so without shame. They did this to deter people from change. When they found themselves unable to achieve their endeavor, they revived terrorist groups, believing that this would bring the idea of change to the end, but history tells us that such plots do not last long, and that tyrannical regimes, no matter how many allies and friends are around them and how much money and power they have, will inevitably disappear.
Dear friends,
Not far from the conflict in the Middle East, there is an increasing level of hatred and racism sweeping the world. Paradoxically, such racist calls by politicians, some of whom hold high positions in this or that country, often lead to violations and terrorist operations.
Of the most urgent issues that must be dealt with in today's world is this disturbing rise in racism. It must be remembered that the world has paid dearly as a result of this. The racists have no logic, and hatred is not logic. We must help those who have followed this path to see things as they are. We cannot guarantee even the minimum level of social peace and coexistence between different races and peoples as long as some still incite hatred.
Dear friends,
Yemen is witnessing an exceptional situation due to the ongoing war there. Yemenis were about to hold a referendum on the new constitution, and accordingly would have held presidential and parliamentary elections that would produce elected popular legitimacy. In brief, the counterrevolutionary forces and their supporters have decided to spoil the outcomes of the comprehensive national dialogue conference and the political process, and to push Yemen into the midst of a war that continues to this day.
Seemingly, five years of war, blockade, salaries non-payment, infrastructure destruction, public institution collapse, decline in health services and complete blackout are not enough for the world to pay attention to the Yemeni tragedy. About thirty million Yemenis live in difficult circumstances, and they are punished, political and human rights activists and journalists are pursued and imprisoned in secret detention. Despite all that, the international has remained silent and has taken no honorable stance with people of long history like Yemenis whose country was called Arabia Flex by the Greeks.
Yemen's crisis has two levels: local and international. Locally, the Houthi militia believes that it has a divine instrument that grants it the right to rule and wealth. Most Yemenis, however, would never accept such false interpretation since they think each Yemeni has the right to rule and wealth. On the sidelines of this war, dozens of militias have emerged claiming to have privileges other than that of all Yemenis.
As for the international level, it has to do with the foreign military intervention that has turned Yemen into a bloody conflict arena. On the one hand, Saudi Arabia and the UAE have committed horrific war crimes such as bombing civilians and building secret detention camps, assassinating political opponents, and using their political influence to destroy infrastructure of the Yemeni state. On the other hand, Iran provides the Houthi militia with political and military assistance, believing that Yemen will thus be an Iranian state that owes allegiance to Tehran's mullahs.
Certainly, the Yemeni parties are fully responsible for this blatant intervention in the affairs of Yemen. Had it not been for the Houthi-Saleh coup, the political process would have proceeded as it was intended for, but this should not make the world turn a blind eye to the crimes committed by Saudi Arabia, the UAE and Iran.
Dear friends,
No war lasts forever. One day, battles will stop and sounds of bullets will subside. Until we get to this day, we should not forget to do our best to realize the principle of justice and hold war criminals accountable. On this occasion, I reiterate my call for the establishment of an international criminal court for Yemen to prosecute those involved in crimes and violations against Yemeni civilians. Let us remember that most criminals do not fear domestic justice, but rather international justice.
Holding killers accountable is an important step for achieving a lasting peace in Yemen, but there are many steps that must be taken until this day comes. I demand that all airports and ports be opened to travelers and receive goods. What is going on in Yemen is like annihilation.
Dear friends,
Despite all the sorrows and pains and despite the spread of dictatorships in our homes, I have not lost hope for change. This is our right, and this is our destiny, and there is no power on this planet that will prevent us from being free on our soil and from living as we want with all our dignity and pride.
 They indeed see that day far but I see it soon.