News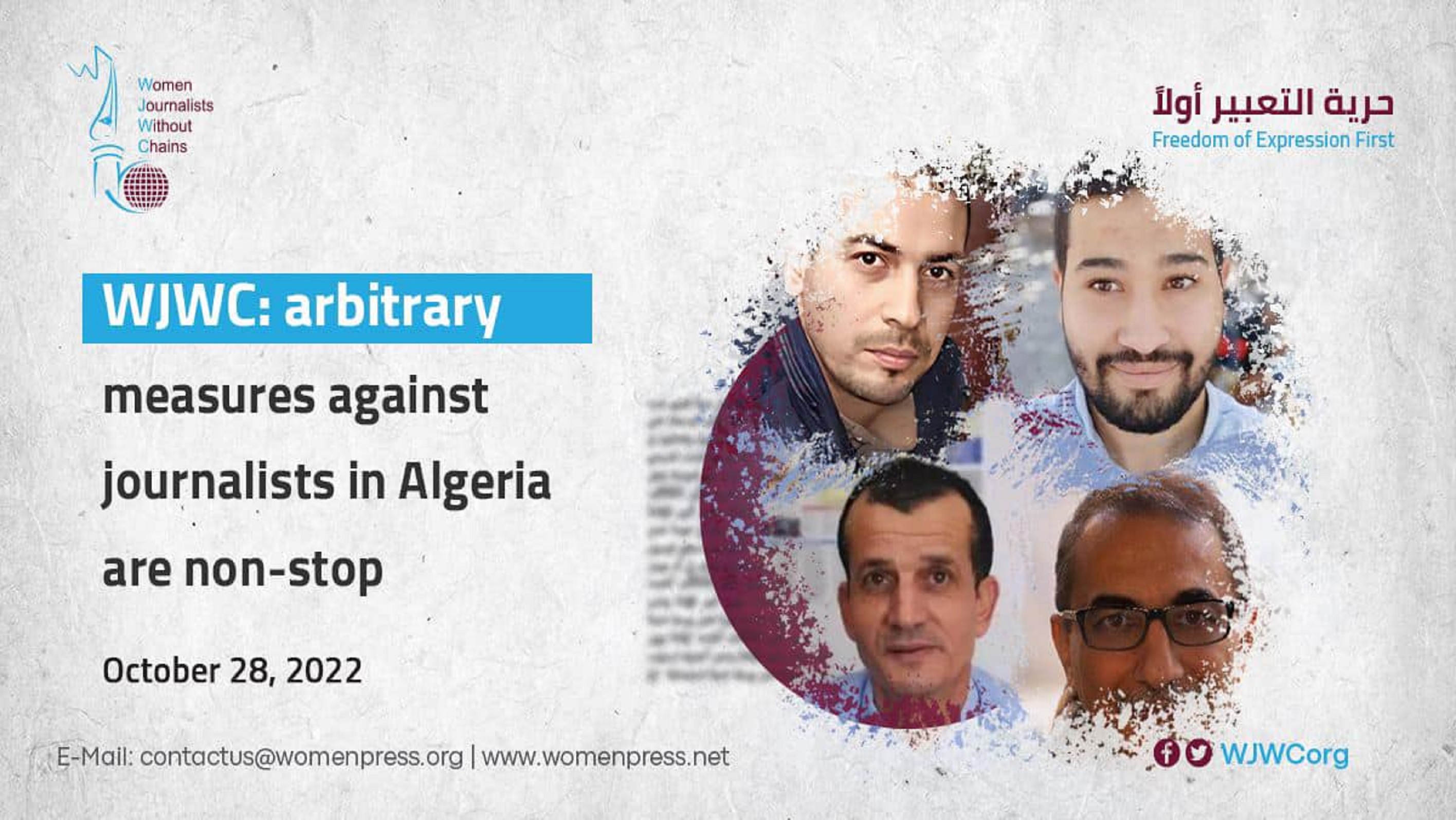 WJWC: Arbitrary measures against journalists in Algeria are non-stop
Friday, the "Women Journalists Without Chains" organization urged the Algerian authorities to refrain from prosecuting journalists and passing politicized sentences against them.
On Tuesday, October 25, an Algerian court sentenced Echorouk newspaper journalist Belkacem Haouam to two months in prison, in addition to ten-month suspended sentence, while the acting editor Abdelhamid Othmani received a six-month suspended sentence on charges of "spreading false news" in an article about the country's Ministry of Commerce allegedly stopping the export of local dates due to their high levels of pesticides, according to the Echorouk newspaper thy work for.
The WJWC has called on the Algerian authorities to drop "the politicized sentences against journalists and stop their existing trials against the background of exercising their right to freedom of expression guaranteed by the constitution and international covenants.
On her part, the WJWC founder Tawakkol Karman has stated that" the arbitrary measures against journalists in Algeria are endless, thus creating great obstacles that have restricted freedom of opinion and expression in the country".
The procedures and prosecutions carried out by the Algerian authorities against journalists are inconsistent with Article 19 of the International Covenant on Civil and Political Rights, to which Algeria is a party, added Tawakkol Karman. 
For the fourth time, the Algerian authorities have banned journalist Mustapha Bedjama, editor-in-chief of the local independent news website Le Provincial, from traveling. He has been subjected to harassment and investigations against the background of his activities and writings during the past two years. 
On June 27, 2021, an appeals court in Annaba, in northeast Algeria, issued Bedjama a two-month suspended prison sentence and a fine of 20,000 dinars. The court charged him with "harming national unity" for his coverage on social media of the country's anti-government protests that broke out in February 2019. 
Last Tuesday, journalist Nadir Kerri, editor-in-chief of local independent news website Autojazair, specializing in automotive news in Algiers, appeared before the investigating judge, against the background of a complaint filed against him by the Ministry of Industry about an article he wrote about importing cars to Algeria.
The WJWC has denounced the Algerian authorities' continued violation of the right to freedom of opinion and expression and calls on them to respect the freedom of the press, to stop prosecuting journalists, and to abolish the articles contained in the penal code that allow the judge to issue a prison sentence on the journalist.
The Algerian Penal Code - amended in 2020 - imposes burdensome restrictions on freedom of expression in Algeria ranked 134th out of 180 countries in the 2022 RSF's press freedom index.
---
Issued by:
Women Journalists Without Chains