News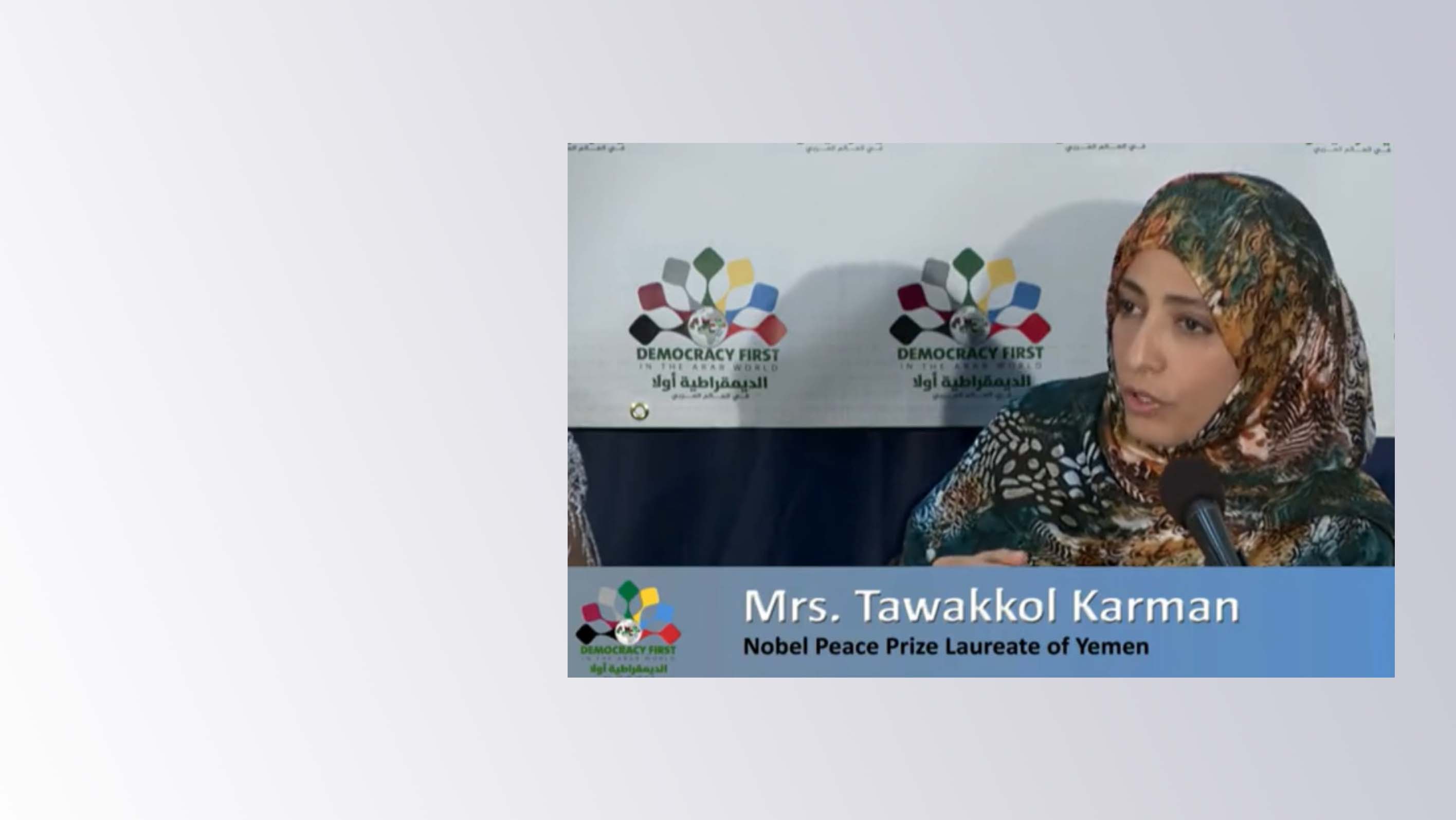 USA and West must correct their policies towards authoritarian regimes, says Mrs. Karman at press conference in Washington
The Nobel Peace Prize-winning human rights activist, Tawakkol Karman, stated the United States of America and the West in general should correct their policy toward authoritarian regimes, especially in the Arab world,
where they (western countries) sometimes collude with tyrants and support a destructive project led by anti-freedom and -democracy capitals, such as Saudi Arabia and the UAE.
Her remarks were made in a press conference, participated by the former Tunisian President, Moncef Marzouki, at the National Press Club in Washington, DC, on the results and recommendations of a conference held on last Friday under the title "Democracy First in the Arab World".
"We in the Arab world are struggling for democracy, and we have the absolute right to live freely like Americans, Europeans and many peoples around the world who live as free citizens under democratic rule", she added.
Tyrants and human rights violators, Mrs. Karman continued, should not feel that they are far from international accountability and justice, and Washington and the West in general should stop sponsoring and coddling dictatorial regimes.
She also emphasized that saying so does not mean a call for an American or Western intervention, as experiences in Iraq and Afghanistan have proven that direct intervention causes countless disasters.
Karman explained that the United States and the West must act with a great deal of firmness on Iran's destructive policy in the region, which contributes to destabilizing security and stability in Yemen, Syria and Iraq, noting that there is a belief that the West may be inclined to tolerate Iran's behavior and crimes, and therefore an adequate pressure is required to release tens of thousands of political detainees in Middle Eastern countries.
The torchbearer of the Arab Spring as described by TIME Magazine indicated that it would be necessary for the United States and democratic governments to make increased efforts on the so-called war on terrorism, and not to allow dictators to use it as a tool against political opponents and peoples.
From the Nobel laureate's point of view, tyranny is the root of all evils like political and economic corruption, social backwardness and terrorism, and the pathway to freedom, democracy, rights and the rule of law begins with getting rid of all of that.
Concerning the Arab people, she emphasized that no one thinks of giving up or stopping dreaming, struggling and sacrificing for the sake of democracy, freedom and the rule of law before such noble values are achieved.
The Mother of the revolution also stressed the need to stop wars in Yemen and everywhere around the world, to stop selling arms to human rights violators , to end special relations with dictatorships, and to support and respect democratic movements and the desires of peoples.
In Karman's view, talking about democracy in the Arab world, the Middle East and North Africa is often taken by dictatorial regimes as an excuse to mobilize all their energies to talk about an American and Western conspiracy to destabilize and destroy countries.
As the human rights activist stated, dictatorships have close relations with democratic countries like the United States and the West, despite gross human rights violations by those regimes that use such relations as a cover for their violations.
In the same context, Mrs. Karman considered it a shame for democratic countries to continue with their alliance with dictatorial regimes hostile to freedom and democracy.
Karman indicated that since 2011, when the Arab Spring revolutions erupted, there has been a clear battle between the pro-democracy and -human rights bloc and the anti-democratic regimes led by Saudi Arabia, the UAE, and Iran.
Saudi Arabia, the UAE and Iran, according to Karman, worked hard day and night to stop the region's peoples from becoming free societies and moving towards democracy, and committed all forms of crimes against their own people, such as wars, military coups, militia coups, and terrorism against citizens.
"Dictatorships in the Arab world use all tools of repression against their opponents, and classify democrats and human rights defenders as terrorists, taking advantage of the lack of a just and independent judiciary," Karman added.
She stressed the need for the United States and Western democratic countries to realize that authoritarian regimes embody the essence of corruption and instability, noting that inhumane practices usually lead to instability and turmoil that can extend far beyond the borders of the suffering countries, which poses a threat to world peace.