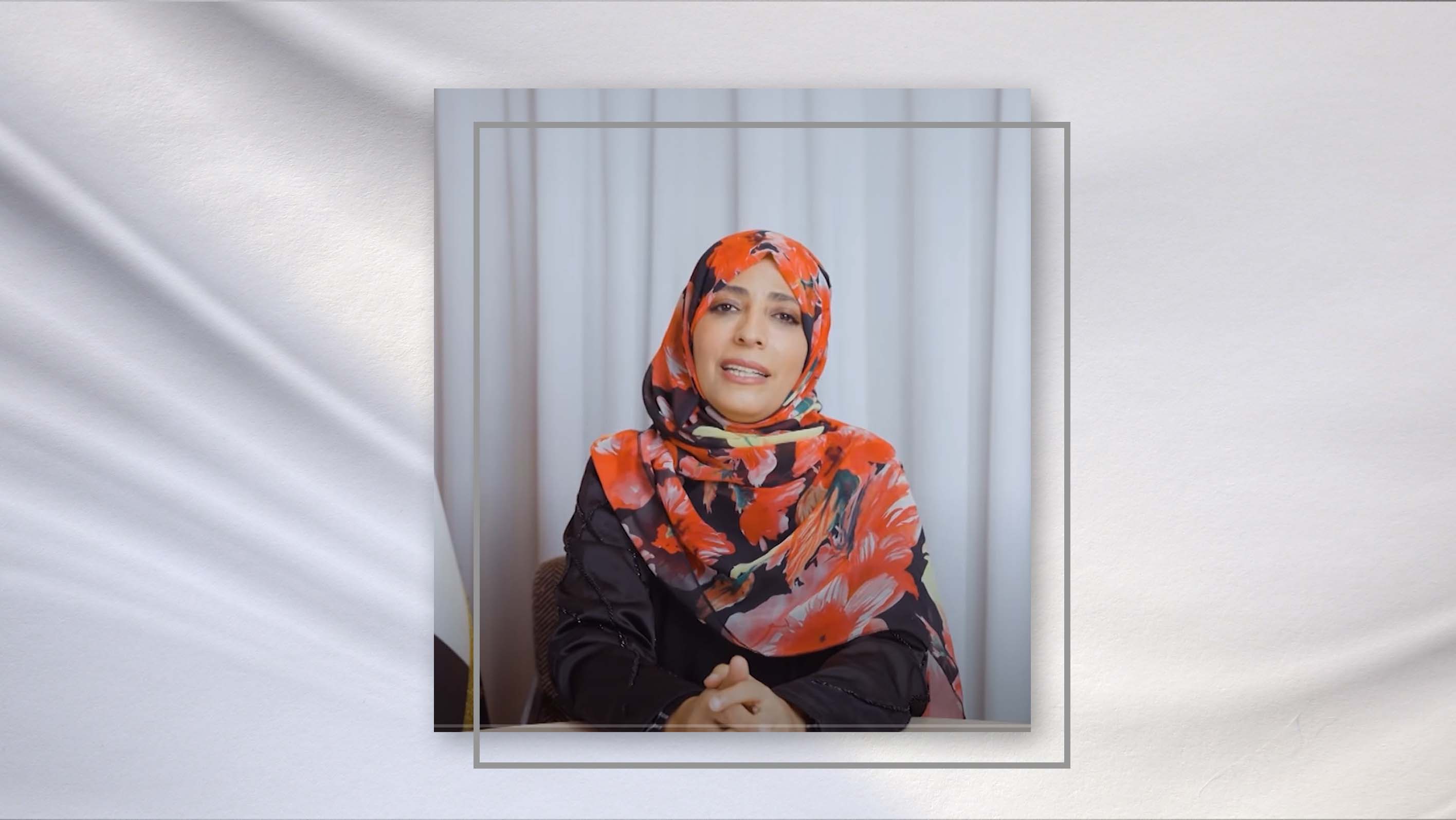 Speech by Mrs. Tawakkol Karman on October 14th Revolution's 60th anniversary
May peace be upon October and the October family!
May peace be upon those who made history for themselves, their people, and Greater Yemen by shattering the haughtiness of the empire over which the sun never sets!
May peace be upon young people who called for glory and received it!
May peace be upon heroes and heroines of the historic October 14th Revolution who did not bow their heads, were not lured by life, and did not make peace with the invaders!
O our Yemeni people at home and abroad, 
We are honoring the sixtieth anniversary of the magnificent October 14 Revolution, and our nation is currently experiencing a difficult and sorrowful period. However, we will not lose hope, and we will not surrender, as it goes against our character and the spirit of the proud October Revolution. This spirit rejects injustice and refuses to bow down or be subservient to foreigners. As we remember this historic event, our beloved Yemen is facing a despicable conspiracy aimed at undermining its unity, existence, and dignity.
Beware of those who sow division among us, distort the path of our struggle, and seek personal glory at the expense of our national values. Yemen, like any other country, has its own distinct identity, principles, and sacred aspects. It is not a land devoid of an owner, a people, or a history. It is unfortunate that within our own Yemeni community, there are individuals who act opportunistically or display weakness in the face of external pressures. This is deeply regrettable and profoundly sad.
The October Revolution did not teach us to submit, to be humiliated, or to abandon our homeland. It aimed to restore normalcy and reclaim our sovereignty. Yemen should not be at the mercy of others or placed under guardianship. Yemen is an independent nation, and it is our duty to defend its flag, its territory, and its independence. This is the path we must follow. Free peoples understand and uphold these noble and lofty ideals. However, those who have become tools in the hands of foreign powers disregard these sublime principles and values.
Dear brothers and sisters,
Throughout history, we have seen that tyrants invite invaders, and coups against the will of the people only give rise to puppets. History also teaches us that no one is exempt from the anger of the people. People adopt the principles of their revolutions, and our nation is one that has risen against tyrants who hide behind religion, against occupying forces that believe they have found a land devoid of inhabitants, and against oppressive rule and the unjust perpetuation of power. Our people deserve to live in freedom and dignity; this is not a mere empty slogan. Everything in Yemen indicates that our path to victory is nearing, despite the challenges we face and the conspiracies against us.
The glorious October Revolution was ignited deep within the majestic mountains of Radfan. It was the radiant sun that eclipsed Britain's dominance. The fierce struggle between the country's people and the occupier, the colonizer, had one inevitable outcome: the triumph of the people. It is often said that the land itself fights alongside its people. Indeed, it holds true that the earth remains loyal to its people, regardless of the allure of gold or silver. To those who show mercy towards the colonizer because of a few buildings built or roads paved, I urge you to reconsider. This occupier violated our sovereignty and dignity, treating citizens with arrogance, haughtiness, and disdain. History has meticulously documented the occupier's transgressions and crimes, even without considering the countless atrocities, violations, and exploitation of our resources. National independence is an uncompromisable matter, one that cannot be subject to negotiation.
People who lack moral values and do not comprehend the significance of a free and independent homeland are those who have sold their souls and selves to the devil, and as a result, they consistently lose and are vanquished. There are people who support the occupier and offer him all the justifications in the world, yet everything crumbles, and the only thing that is raised is the flag of independence.
Currently, we are confronted with a racist militia whose historical legacy demonstrates a clear disregard for the dignity of our nation. Wherever this militia gains a foothold, occupation inevitably follows, as history has shown us time and time again. The imamate, unfortunately, serves the interests of external occupiers, who provide justifications for its continued existence. Yemenis today have come to a stark realization that countries such as the UAE and Saudi Arabia are engaged in deplorable acts of occupation. 
They have established secretive prisons and detention centers within Yemeni territory, while also seizing control of Socotra Island—an invaluable treasure of Yemen—along with its ports, coastlines, oil reserves, and other significant regions. Additionally, they have erected military bases on various islands, appointing their own agents as Yemen's officials and decision-makers, thus subjecting Yemen to complete dependence. Furthermore, they have resorted to ruthless tactics, targeting and eliminating individuals who dare to oppose their oppressive policies in Yemen.
It is truly disgraceful and nonsensical for certain individuals to celebrate the anniversary of the October 14 revolution against the occupier, while simultaneously supporting or being fond of the new Saudi-Emirati occupation. This contradiction is deeply fundamental and carries a powerful irony. Each one of us must determine our stance and position, and regardless of the choice made, it should be recognized that there is no future for the occupation. When it comes to Yemen, the reality becomes as evident as the midday sun. Throughout history, Yemen has served as a graveyard for invaders, both in the past and in the present.
Beloved compatriots, both at home and abroad,
The oneness of the Yemeni revolution has always been an unquestionable matter, until those who were influenced by foreign interests launched an attack on us, attempting to fabricate a narrative contrary to the truth. They believed that by rewriting history, they could bring themselves closer to achieving their delusions of dividing Yemen, aligning with the occupier's aspirations. However, their endeavors are futile. The revolutionaries, both from the October 14th and September 26th movements, spoke the truth at that time. They firmly established the undeniable reality of the Yemeni revolution's unity, leaving no room for distorting this fact.
I am not here to provide an exhaustive account of the intricacies that define the profound connection between our two momentous revolutions. Many of these aspects have been eloquently captured in the memoirs, interviews, and testimonies of the dedicated revolutionaries hailing from the northern and southern regions of our nation. Instead, I am here to emphasize that true revolutionaries, alongside the wise and courageous individuals among our esteemed Yemeni populace, are well aware that Yemen, spanning from Saada to Al-Mahra, is a unified nation with shared aspirations, shared burdens, and shared challenges. Those who seek to divide our country are merely driven by self-interest, but when will they truly stand for the welfare of these people? Whether it be a governing body or authority, their actions will never bring prosperity. Yes, we may currently find ourselves in a temporary phase of vulnerability, but it shall not endure. Indeed, it will not last.
The October 14 Revolution unfolded in the year subsequent to the September 26 Revolution, and this sequence of events was not a mere coincidence. The September Revolution instilled the revolutionary fervor that permeated the October Revolution, serving as its organic prelude. It is noteworthy that many of the October revolutionaries swiftly rallied to support and defend the September 26 Revolution, and this too was not a historical accident. Rather, it epitomized the genuine unity of the revolution and embodied the shared aspirations and collective destiny experienced by all Yemeni people, both in the north and south.
This interconnectedness and solidarity between the revolutionaries of September and October succinctly conveyed their unwavering belief in a unified and formidable Yemen. In such a unified and formidable Yemen, the republic would remain unbroken and inviolable, with national sovereignty safeguarded and the integrity of its land and resources preserved. Yes, we ardently defend the vision of a united, republican, and democratic Yemen, where all Yemenis stand on equal footing beneath its banner. We defend it with utmost pride, honor, and dignity.
October is a revered commemoration for those who perceive Yemen as a great and mighty nation, while for those who compromise the country, their celebration of October is a deceptive act, October marks the anniversary of independence, which is defined as freedom from a foreign power and not as submission to it.
Dear fellow citizens, wherever you may be,
In these critical times, we are in desperate need of drawing inspiration from the spirit of the October 14 Revolution. Our beloved nation has been stripped of its sovereignty and the ability to make independent national decisions, a situation that must be vehemently rejected regardless of the consequences it may entail.
Our foremost responsibility is to end the Saudi-Emirati occupation and their control over our nation, as we are the ones who understand our own interests more than any external entity. Simultaneously, we must take decisive action to overthrow the Houthi coup and address the widespread devastation and chaos it has inflicted upon our people, an uprising that has unleashed unimaginable suffering. Any initiatives aimed at ending the war must prioritize the safeguarding of our national achievements, including the republican system, unity, equal citizenship, individual freedoms, political engagement, the right to vote, and freedom of expression.
Once we possess the power to make our own choices, we have the capability to bring an end to this war and coup in a matter of weeks or months, a commitment we will fulfill because the determination of our people surpasses any occupation, coup, security, or military regime. What truly matters is that we regain control of our decision-making. Let the guiding principle of our struggle in the next phase be the liberation of the Yemeni decision from external influence. This serves as the pivotal point for transforming our painful reality. Without a liberated and independent Yemeni decision, we cannot overthrow both the internal and external occupations.
In conclusion, I would like to express my utmost reverence for the October 14 Revolution, commemorating its profound mission of attaining independence and liberating our land from occupation. Let us forever remain devoted to this immortal revolution and its enduring objectives. There can be no reconciliation with occupiers, nor shall we ever yield to their will. Yemen stands as an independent nation, and the preservation of its sovereignty is an unwavering principle that cannot be compromised.
Glory to the illustrious October 14th Revolution!
May the righteous martyrs be bestowed with eternal mercy!
May Yemen, all of Yemen, triumph in victory