Reverberation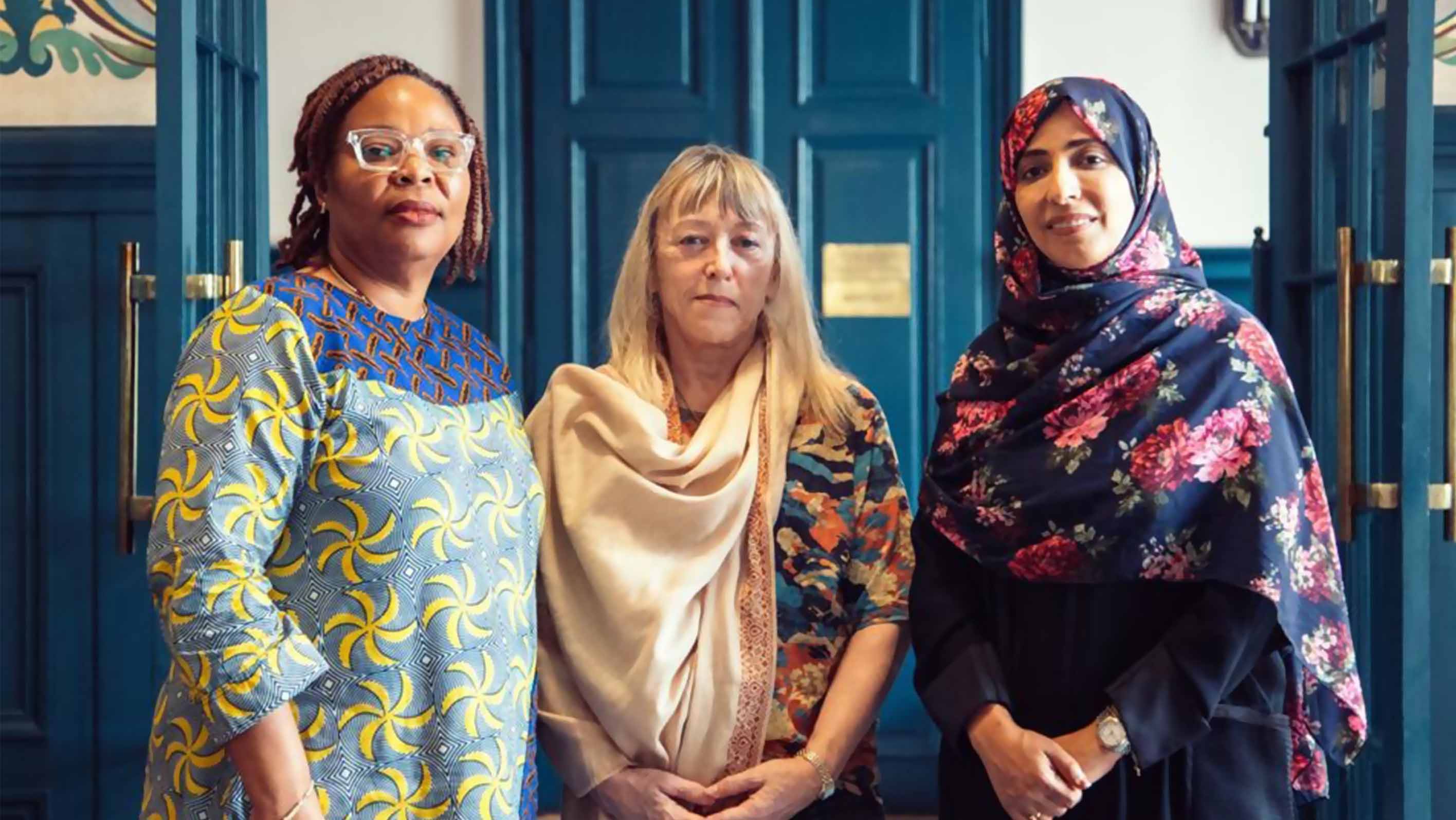 Nobel Peace Prize Laureates Spotlight The Brave, Visionary Women Of Ukraine And Launch 'Women Lead' Campaign
Forbes - By: Marianne Schnall (*)- Throughout history, women have played pivotal roles during turning points in their countries, all while bearing the specific impacts wars, conflicts and other upheavals have on their lives.
The women of Ukraine facing the daily onslaught of the Russian invasion are no exception. Yet in this war, as in all wars, women's valuable contributions and leadership are still largely excluded from diplomatic processes, humanitarian efforts, reconstruction and building peace.
To highlight the role of Ukrainian women and ensure that their voices in the war are heard, a delegation including three Nobel Peace Prize laureates—American anti-war activist Jody Williams, Yemeni human rights activist Tawakkol Karman and Liberian peace activist Leymah Gbowee—traveled to Lviv, Ukraine, as well as Kraków, Poland, which has taken in over one million Ukrainian refugees. They met with hundreds of displaced women and dozens of women's organizations, shelters, human rights organizations, humanitarian agencies and activists, as well as the mayors of both cities.
The delegates' visit led to the development of the Women Lead Initiative, a newly launched global campaign that aims to raise awareness of the ongoing war, uplift the role of Ukrainian women in their fight for peace and freedom, and raise 10 million euro to support sustainable civil society based projects in Ukraine benefiting female leaders, activists and entrepreneurs. Women Lead was created jointly by United for Ukraine (UFU), an international NGO effectively addressing Ukraine's imminent needs for emergency relief and consolidating action to rebuild the country, and Nobel Women's Initiative (NWI)—an international advocacy organization created by several women Nobel Peace Prize laureates who united to increase the power and visibility of women's groups working globally for peace, justice and equality.
I had the opportunity to interview the three laureates, as well as Olga Hamama, the president of United for Ukraine who was also part of the delegation, to learn about what motivated their visit, hear about the experiences and stories that resonated with them and find out what they most want people to know about the role and plight of women, what they want for the people and country of Ukraine, and what their call to action is.
"As part of the delegation of the Nobel Peace laureates to Ukraine and Poland, we listened to many stories—stories of loss and stories of resilience, stories of tremendous pain and incredible strength," commented Hamama.
"We've gone there to show them that their struggle and freedom are ours, and that Putin should not achieve his objectives in Ukraine," said Karman. "The world should take care of the refugees, help them return home and provide all forms of support to the Ukrainian people."
When asked what motivated her and the other laureates to spotlight the women of Ukraine, Karman responded, "It is of paramount importance, especially since their country is facing an existential threat and the population are living in grave conditions due to the Russian invasion with its increasingly destructive effects. One of Nobel Women's main objectives is to defend human rights in general and women's rights in particular, as well as to reject the occupation, killing and destruction against the Ukrainians. What women and all civilians in Ukraine are being exposed to requires our absolute solidarity. Women are surely a great and fundamental component of any society and serve as a great advocate for just causes. Therefore, we believe that by further organizing women's efforts and roles, amazing results would be achieved. Unfortunately, many countries lack policies regulating such efforts and roles so that they turn into a force for change. We would like to see the women of Ukraine lead an active social mobility in the face of dictatorship and unjust aggression on their country, expecting it to contribute to consolidating the foundations of peace in the world."
As Hamama explained it, "The Russian war in Ukraine led to the biggest refugee crises since World War II. About 80 percent of refugees outside of Ukraine are women with children. They also represent a big share of internally displaced people. Unfortunately, many of them have already lost their spouses, fathers and relatives in this war and many became victims of horrible war crimes." Indeed, more than seven million people are internally displaced and about five million are refugees across Europe. Most are women and children, including more than half of Ukraine's entire child population.
"At the same time, Ukrainian women are on the forefront of Ukraine's fight for freedom, democracy and human rights," Hamama said. "Despite all the unfolding war and horrible atrocities committed by Russia, Ukrainians keep striking with resilience and courage." She expressed, "Women Lead was a very natural development aimed at creating a very specific empowerment program which would support female-led sustainable recovery initiatives, entrepreneurs and businesses. It is crucial to fight this war at all possible levels, to empower women and the people of Ukraine and to secure their livelihood and future."
To help document the situation in Ukraine and uplift the stories of the Ukrainian women, NWI published the Women Leading Peace: Standing with Women in Conflict report and, in partnership with UFU, commissioned the production of a short documentary film Oh, Sister!, a collective portrait of Ukrainian women who face the constant challenges of war yet fight for peace and victory by taking on extra roles in civilian life, running businesses in addition to looking after their families, volunteering, fundraising, joining the military and much more.
The documentary, which was produced by an all-woman Ukrainian creative team, includes the powerful stories and testimonies of several women who are taking front-line action in the war in various ways, including: two train conductors who are bravely risking their lives to keep the trains running and transport millions of people fleeing violence, even as hundreds of railway staff have been wounded and killed; Oleksandra Matviychuk, a human rights lawyer who is documenting war crimes, fighting for justice and is the head of Ukraine's Center for Civil Liberties, which is a recipient of the 2022 Nobel Peace Prize; the head of a children's organization who is rescuing wounded children by evacuating them to European hospitals, despite constant shelling and other challenges; a medical supply volunteer who provides tactical medicine and first aid to those who have been injured or raped in the war; and a 24-year-old woman who decided to join the Ukraine military as a medical platoon leader and has documented her experiences in the battlefield on Instagram.
Oh, Sister! premiered in New York in September, which was also the official launch of the Women Lead Initiative, and will be released online in December of this year. There will also be a screening for the U.S. Congress, and plans are in the works for screenings in other cities across the globe, including Brussels and Berlin, among others.
"I hope this film will inspire people," Hamama said. "The Oh, Sister! documentary is a great opportunity to tell the story of the brave, ambitious and visionary women of Ukraine who have been transforming the country for decades and their crucial role in the fight for peace and justice. The film gracefully depicts the incredible strength, selflessness and resilience of the heroines. At the same time, it skillfully shows their vulnerability and humanity. This combination is incredibly powerful. To me, this combination is what not only Ukrainian women but also Ukraine stands for."
Although there are many inspiring stories about the courage and activism of women in this war, the invasion has undoubtedly left many Ukrainian women vulnerable. As Karman said, "In all wars, and the Ukrainian one is no exception, women are more vulnerable to risks."
"Our delegation listened to the testimonies, analysis and demands of women from across Ukraine," said Gbowee. "We heard of increased risks facing women, including increased violence against women, exploitation and trafficking. More needs to be done to address the protection gaps for women and girls in Ukraine, in transit and host countries."
The laureates heard multiple accounts of Russian forces beating and raping Ukrainian women and girls and torturing civilians. There have been many allegations that Russia is indeed using rape as a weapon or war in Ukraine. In the film, human rights lawyer Matviychuk, who is documenting war crimes, said, "There are already 12,941 criminal episodes in our database [as of June 2022]." She also expressed concern that this war "has a genocidal character."
Following their visit to Poland and Ukraine, the laureates called for the immediate withdrawal of Russian troops from Ukraine, accountability for Russian war crimes, including against women, and for meaningful participation of women and women's organizations in the humanitarian response, reconstruction, as well as policy- and peace-making processes. As Karman put it, "At turning points, women play a prominent role, a fact that is often ignored. Some wrongly think that women are unworthy of leadership and participation in policy-making or as part of development or peace efforts. However, such perception always proves to be wrong."
Gbowee said that hearing the testimonies and stories of so many women enduring the war "underscored urgency for peace in its fullest form and how decision-makers could ensure women's voices are heard in all processes related to the invasion and in charting the course toward peace," especially since women are often left out of the conversation.
"Despite Ukrainian women playing critical roles in responding to Russia's aggression, they are still largely excluded from both formal and informal humanitarian relief and peace processes," said Gbowee. "For example, in negotiations between Russia and Ukraine from 2014 to 2019, only two women out of 12 delegates were sent to the talks by Ukraine. There were no women in the Russian delegation. By excluding women in these processes, the rights and needs of women and marginalized communities are largely overlooked. Women know what they need, and by including them, responses to the multiple crises they face will be more effective. Action is vital to overcome the enduring, deep-seated sidelining of women and gender issues in humanitarian relief efforts, conflict resolution and recovery."
Williams echoed that sentiment, saying "Women are doing the work locally, but still their voices are often excluded. Women's active participation must be at the center of managing the humanitarian response, reconstruction and building peace. We call for credible negotiations that include women and center humanity."
Reflecting on her visit, Williams had this to say: "Inspired by the courage and resilience of women and committed to amplifying their voices, together we unambiguously condemned the Russian war of aggression, as we condemn the indignity and horrors of war everywhere. We echo the demands we heard for peace. Peace with justice. Peace with human rights. Peace with freedom. And we stand in solidarity with the courageous Ukrainian women. Many women we met asked, 'Do not forget us.' We will not."
The Nobel Peace Prize laureates place their hope in women to lead efforts for peace and justice across the globe—as they personally witnessed in Ukraine, as evidenced in the brave women-led uprisings in Iran and other pivotal moments of women standing up for freedom in their countries.
As Karman said, "I count on women defending human rights across the world. Women have led and actively participated in freedom struggles and are always at the forefront of campaigns calling for an end to all forms of discrimination. Although challenges are serious and renewed, women's positive role increasingly grows. There is tangible progress echoed by the rise of voices and organizations that advocate for peace."
"It is time for us to change the way we talk about peace," said Gbowee. "We are witnessing mounting militarism and multiplying human rights abuses in many contexts from Guatemala to Iran, the U.S. to Liberia, Yemen to the Philippines and from Afghanistan to Syria. In this context of violence, exclusion, corruption, backlash against feminists and the revival of fascism in many countries, NWI's work to amplify the voice and impact of women peace activists matters. There is an urgent need to do more, to be united and to work in new ways to achieve gender equality, stop violent conflicts and improve the lives of women and their communities across the globe."
---
* Marianne Schnall is a widely-published interviewer, journalist and author of What Will It Take to Make a Woman President?, Leading the Way, and Dare to Be You. She is also the founder of Feminist.com and What Will It Take Movements and the host of the podcast ShiftMakers.
To read full texts in Forbes magazine click here