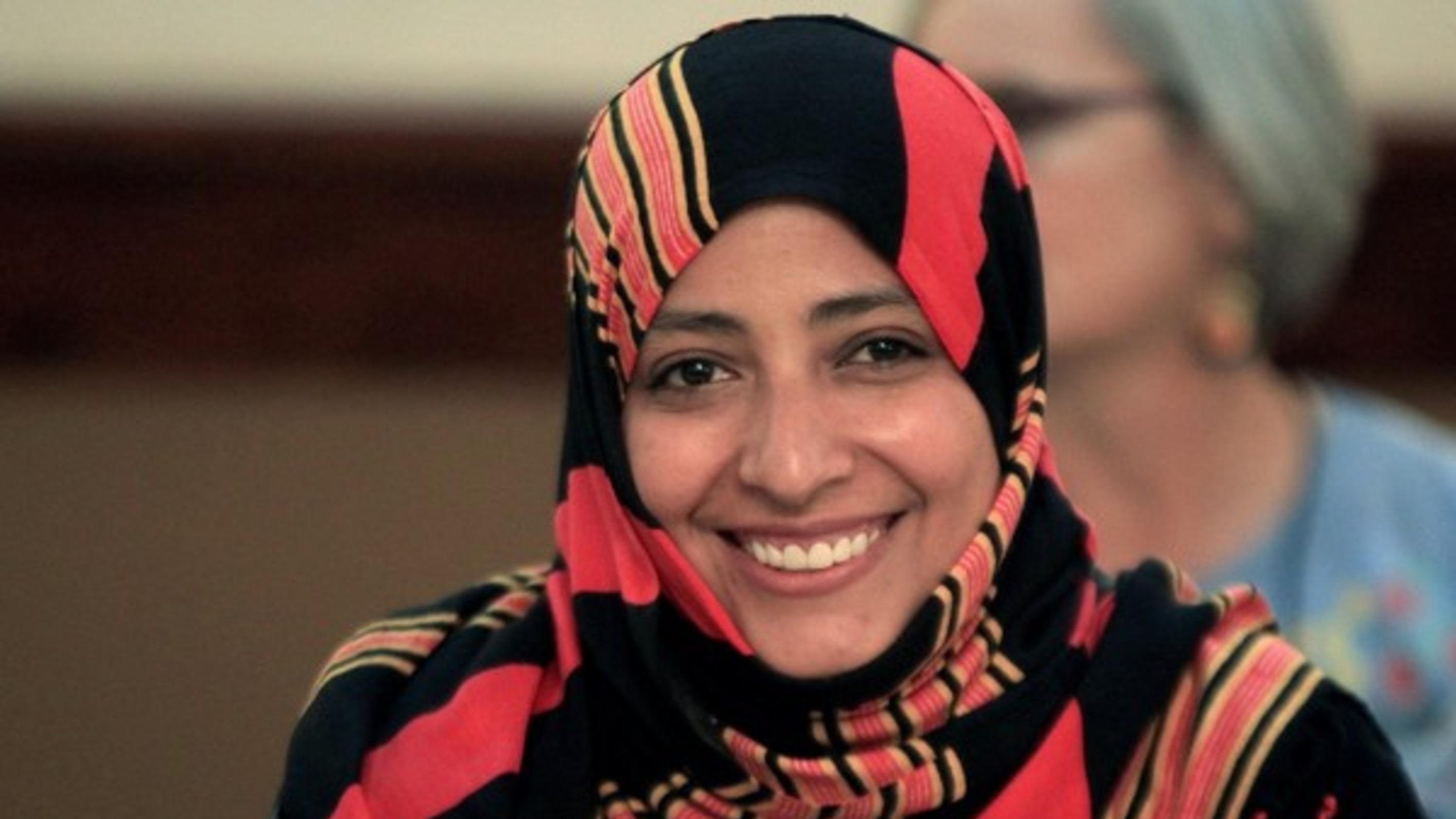 Nobel laureate says Saudi, UAE 'betrayed' Yemen in push to expand influence
DUBAI (Reuters) - Reporting By Noah Browning, Editing by William Maclean - Yemeni Nobel Peace laureate Tawakkol Karman called for an end to what she says is a military occupation of her country by Saudi Arabia and the United Arab Emirates (UAE),
powerful Arab states she accuses of repressing democratic change in the region.
An outspoken rights advocate and activist with Yemen's main Islamist party, Karman won the prize in 2011 after camping out in a tent for months in pro-democracy protests that eventually forced Yemen's veteran autocrat Ali Abdullah Saleh to step down.
As in other lands shaken by Arab Spring uprisings that year like Syria and Libya, Yemen descended into a war which drew in foreign powers, seeming to dash the dreams of progress by the thousands who took to Sanaa's makeshift "Change Square."
A Saudi-led military coalition, backed by U.S. weapons and intelligence, joined the Yemen conflict after Iran-aligned Houthis seized much of the country in late 2014 and eventually drove the government into exile in Saudi Arabia.
"The Saudi-Emirati occupation ... betrayed the Yemenis and sold them out, exploiting the coup of the Houthi militia backed by Iran on the legitimate government, to exercise an ugly occupation and greater influence", Karman told Reuters by phone in an interview from her base in Istanbul.
She alleged that the President, Abd-Rabbu Mansour Hadi, along with other top officials, were being kept under "house arrest" by Riyadh and prevented from governing on the ground in order to preserve Saudi and UAE influence.
Officials from the Saudi-led coalition and the UAE did not immediately respond to requests for comment.
A Yemeni government official denied her charges.
"This lady, unfortunately, no longer means what she says. President Hadi isn't under house arrest and can travel wherever he wants ... the government and the coalition are in complete coordination," the official said.
The coalition says their campaign was launched at Hadi's request and aims at restoring his rule and Yemen's future as a unified state in line with U.N. resolutions.
But Karman says Saudi Arabia and the UAE, monarchies where the state and ruling families are intertwined, seek to seek to turn back the clock on political progress in Yemen and abroad.
"They regard the Arab Spring as their first enemy and this is a strategic error they have fallen into ... I call on the two countries to reconcile with the Arab Spring, not to clash with it, because the future is a future of change, and the wheel of history does not roll backward."
Brooking little public dissent at home, the two Gulf countries watched the region's upheavals in 2011 with concern and sought to deny any political advantage to the Muslim Brotherhood, a Sunni Islamist party with branches across the Arab world they had designated as a terrorist organization.
Karman was a top official of the Islah party, seen as Yemen's branch of the Brotherhood, until her public break with the coalition in a speech on Friday led it to freeze her membership.
"Who's freezing whom?" she asked. "The vast majority of our people agree with me."
Perhaps paradoxically, however, Yemen's Islamist Islah is the Saudi-led coalition's main ally in the war against the Houthi movement, in a conflict which has laid bare some of the region's most knotted struggles over ideas and geopolitics.
Karman has in recent years lived in Qatar and now in Turkey, both of which largely welcomed the tumult of 2011 and appeared to back the Islamists, earning the ire of Riyadh and Abu Dhabi.
Her critics have for years accused her of being beholden to the policies of her hosts, especially after she was granted Turkish nationality, though she maintains she is a "a free Yemeni citizen."
Saudi Arabia and the UAE, along with Egypt and Bahrain, slapped trade and travel curbs on Doha last June, saying it aided terrorism and was too friendly with their arch-foe Iran, charges Doha denies.
Politics at home may be even more vexing than the struggles abroad, however, as deadly clashes divided the Saudi-led coalition's main Yemeni allies against the Houthis this week.
Karman accuses Saudi Arabia and the UAE of backing southern separatist militias, who battled this month with Hadi government loyalists, in order to stoke chaos and keep their hold on key territory.
The assertion echoes concerns voiced by many Yemenis that the country's is being taken over by more powerful foreign powers to advance their own economic and strategic interests.
The coalition says it is helping mediate the feud, while maintaining that its military bases on islands, ports and airports throughout the country aim to back the war effort.
Despite her country's progressive implosion, Karman remains sure of a "decisive victory over the counter-revolution."
"The Spring will win the initiative in any country and every time where there is a state based on tyranny, corruption, failure, nepotism and bribes, from the (Atlantic) ocean to the Gulf."
To read this interview in Reuters click here