Activities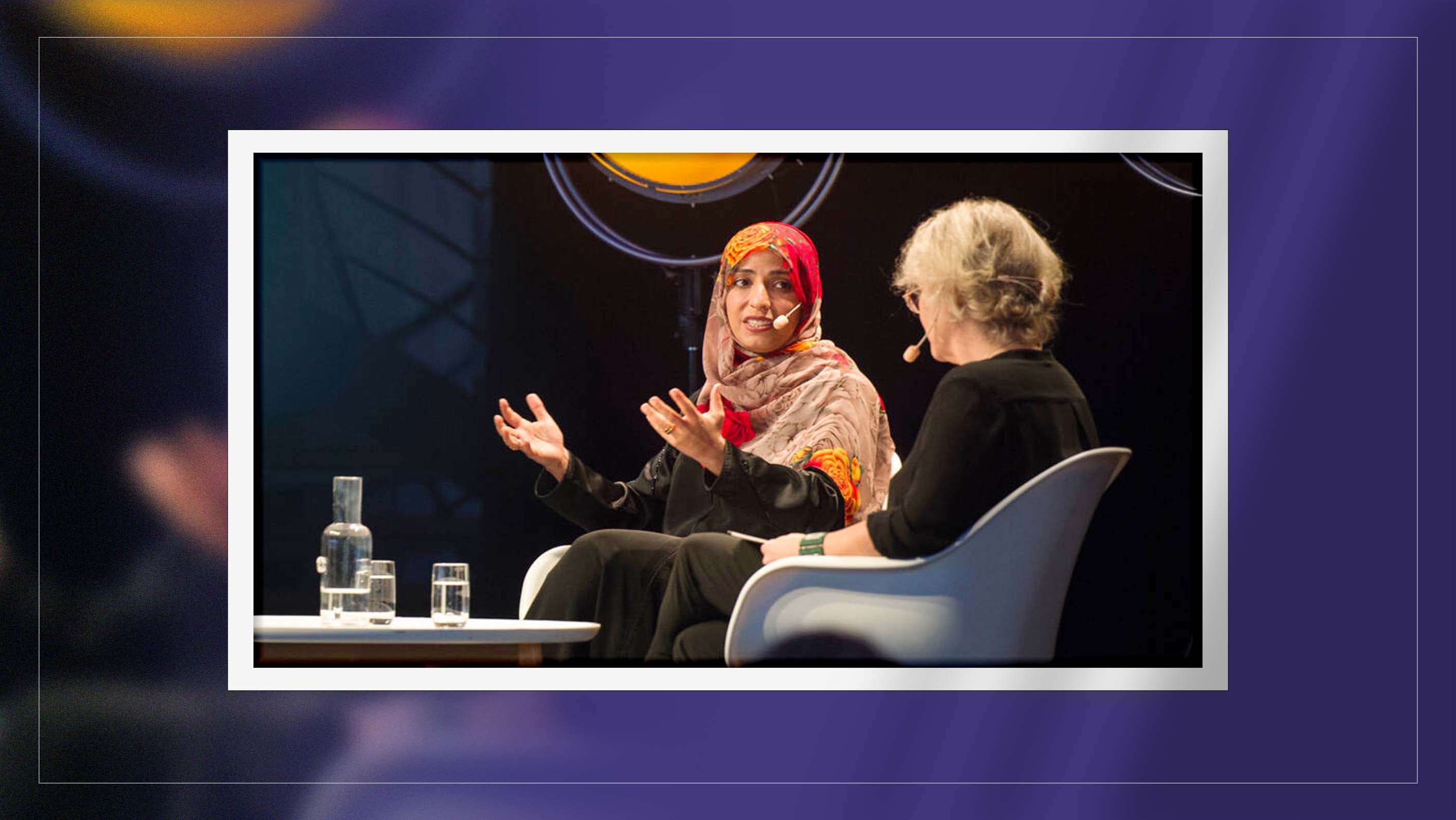 Nobel Prize Teacher Summit: Tawakkol Karman inspires educators to shape future and amplify voices for change
In an interesting discussion panel at the 2023 Nobel Prize Teacher Summit, Nobel Peace Prize laureate Tawakkol Karman passionately addressed educators worldwide, underscoring their pivotal role in shaping society
and emphasizing the significance of instilling leadership, patience, and empathy in students through her powerful reflections on justice, human rights, and democracy.
The 2023 Nobel Prize Teacher Summit brought together educators from over 30 countries to engage with Nobel Laureates, scientists, and peace activists, discussing important themes in education. Teachers attending the summit had the opportunity to participate in a four-day program organized by the Nobel Prize Museum, aimed at enhancing their knowledge and promoting learning engagement.
Karman stressed that teachers, regardless of their location, should have faith in their students and guide them towards becoming leaders in their own right. They should exhibit patience and understanding when dealing with hyperactive or disruptive students and actively listen to them.
According to Karman, it is of utmost importance for teachers to educate their students on using their voices as advocates for others. She believes that teaching them to be courageous and resilient, to stand strong and unyielding, holds greater significance than simply imparting reading and writing skills. Recognizing that shaping students' personalities is a fundamental task, Karman underlined its impact on their own lives, their future, and the subsequent generations.
Karman highlighted that her experiences in school and her defense of students' rights were pivotal moments that taught her the essence of perseverance. This steadfastness was later exemplified through the numerous demonstrations she organized against the dictator Ali Abdullah Saleh, notably in Freedom Square and Change Square in the capital city, Sana'a.
Tawakkol Karman recounted her donation of a loudspeaker to the Nobel Prize Museum, which had been viewed by hundreds of thousands of visitors and many students. She expressed her pride in the loudspeaker, referring to it as her voice, army, and weapon. Karman emphasized its significance as the voice of the people in Yemen and its role in reaching the Yemeni population.
She shared her experiences of roaming the streets of Sana'a alone, using the loudspeaker to call upon people to wake up and save Yemen. Karman highlighted that the loudspeaker symbolized the aspirations of all Arabs dreaming of democracy, freedom, justice, equality, and the rule of law. She emphasized that while belonging to a society with millions of weapons, they chose to wield the loudspeaker and roses in the face of violence, leading to the ousting of dictators such as Ali Abdullah Saleh of Yemen, Hosni Mubarak of Egypt, Omar al-Bashir of Sudan, and others. Karman concluded by stating that all revolutions had their beginnings with the loudspeaker, and she expressed her immense pride in its significance.
To view the complete discussion, click here