Activities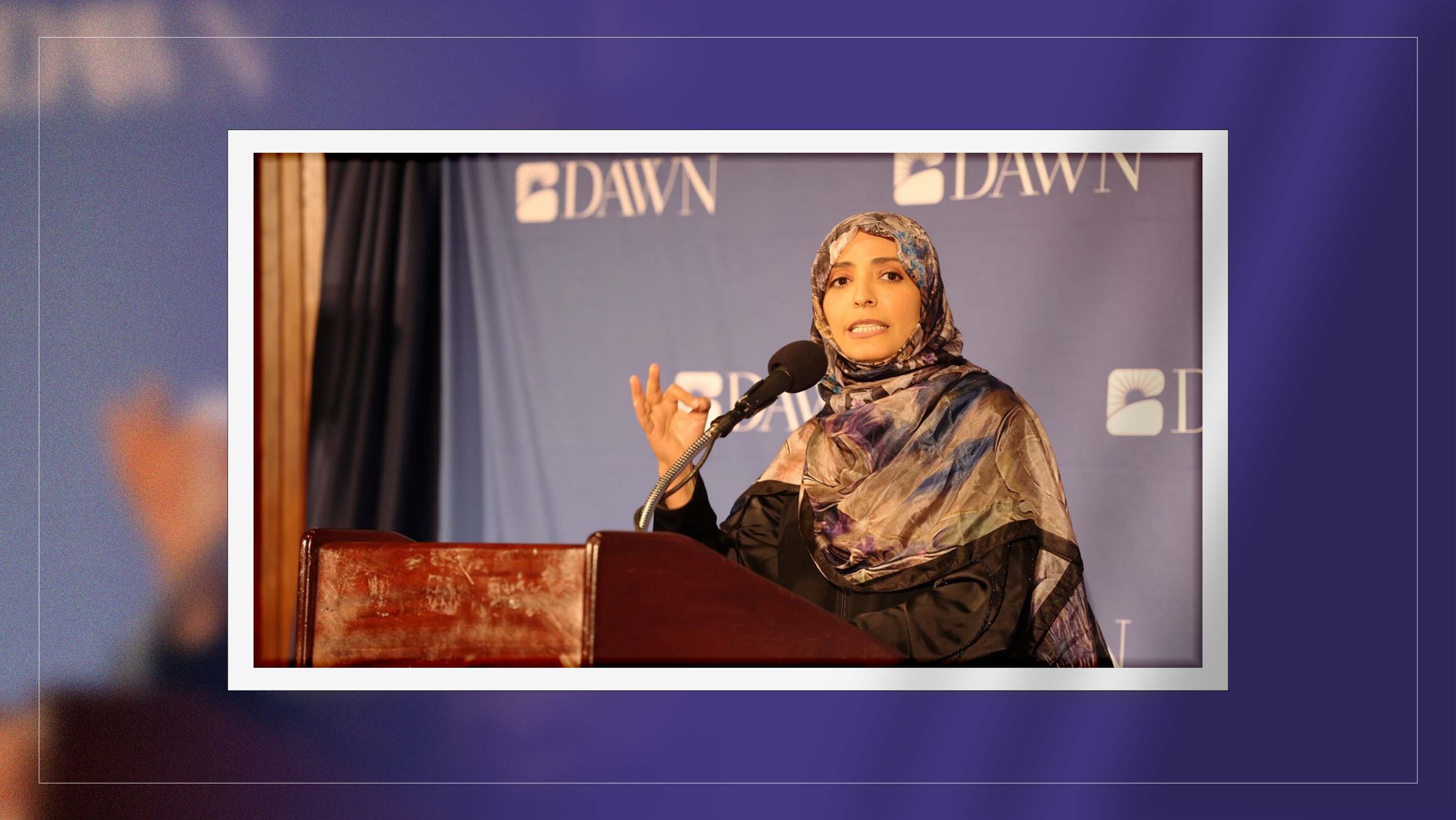 Tawakkol Karman calls for justice and accountability at Jamal Khashoggi remembrance event
Human rights activist and Nobel Prize laureate Tawakkol Karman delivered a powerful speech at the "Jamal Khashoggi Remembrance & Awards Dinner" held at the National Press Club, commemorating the fifth anniversary of the tragic assassination of Saudi journalist Jamal Khashoggi. 
Karman highlighted the lack of justice and accountability surrounding Khashoggi's murder and called on the international community to take a stand against impunity.
Addressing the distinguished guests, Karman expressed her disappointment that despite promises to hold those responsible accountable, justice has not been served. 
She emphasized the continuing absence of Khashoggi's body, preventing his loved ones from grieving properly and giving him a dignified burial.
Karman condemned governments worldwide for their eagerness to strengthen ties with Saudi Arabia and its de facto ruler, Mohammed bin Salman, despite the heinous crime committed against Khashoggi. 
She criticized the lucrative arms deals, nuclear power plant agreements, and security guarantees extended to Saudi Arabia, suggesting they undermine global efforts to seek justice.
The renowned activist warned of copy-cat crimes, citing the recent assassination of Canadian citizen and Sikh activist Hardeep Singh Nijjar by the Indian government on Canadian soil. 
Karman argued that without justice for Khashoggi's murder, no one, including activists, journalists, and even Nobel peace laureates, is safe.
Recounting her friendship with Khashoggi, Karman recounted their shared goals of ending the war in Yemen and opposing Iranian interference during their last meeting in Istanbul. 
She drew parallels between the dismemberment of Khashoggi's body and the role Saudi Arabia plays in tearing apart Yemen through bombings and starvation.
Karman criticized Mohammed bin Salman's attempt to downplay Khashoggi's assassination as an accident during a recent interview on Fox News, asserting that his tragic death was only possible with explicit directives from MBS, reflecting the Saudi government's long-standing practice of brutally silencing opposition.
The "Jamal Khashoggi Remembrance & Awards Dinner" organized by DAWN aimed to shed light on Khashoggi's murder, inspire action, and ensure that his legacy continues to fuel the fight for human rights and justice worldwide.
Below is the speech text:
Dear honored guests, We are here tonight to commemorate five years since the awful murder of our friend and colleague, Jamal Khashoggi.
As all of you in the audience here know, despite the brutality of his murder, and promises to hold accountable those responsible, there is still no justice, still no accountability. We still don't even know where Jamal's body is, and we remain unable to grieve him properly, give him a proper burial, and lay him to rest.
Instead, we see governments around the world only too eager to bury the file as they cozy up to Saudi Arabia and Jamal's murderer, Mohammed bin Salman. They are falling over themselves to sell weapons to the crown prince, to build him a nuclear power plant, and even give him and Saudi Arabia the security guarantees enjoyed by only the United States' closest treaty allies.
It is no surprise we now see copy-cat crimes, like the recent assassination of Canadian citizen and Sikh activist Hardeep Singh Nijjar by the Indian government on Canadian soil. The reality is that if there is no justice for the murder of Jamal Khashoggi, none of us – not activists, not journalists, not even Nobel peace laureates – are safe.
Jamal was my friend. During my last meeting with him in Istanbul, along with other Arab opposition figures and supporters of the Arab Spring, our shared goal was to collaborate in ending the war in Yemen while opposing Iranian interference and support for Houthi militias and other regional militias. Unfortunately, before we could effectively coordinate our efforts, news broke of Jamal's assassination inside the Saudi consulate in Istanbul, and the horrific way he was killed. The crime against Khashoggi mirrors the war crimes committed by Saudi Arabia in my country, Yemen, which has faced bombings and starvation. As Saudi Arabia dismembered Jamal's body, it plays the same role in Yemen, tearing it apart.
In his recent interview on Fox News, Mohammed bin Salman attempted to downplay Jamal's assassination, portraying it as an accident rather than a reflection of Saudi policy. The truth is that his tragic death couldn't have occurred without explicit directives from MBS, reflecting the Saudi government's disturbing history of brutally silencing any opposition.
We are here to commemorate Jamal's life and legacy because we share the values that he stood for: freedom, democracy, human rights. We are here to collectively remind the world that his killing was an abhorrent crime and that we will continue to fight for justice.
Jamal dreamed of a world when the Middle East could be governed by democratic governments, not dictators and absolute monarchs, when the people of the region could be treated with the dignity and respect they deserve. We are farther away from that than ever before, in no small part because the tyrants of our region find support and protection from the U.S. government. This is a betrayal of the people of the Middle East, it is a betrayal of our values, and it is a betrayal of our interests in seeing democracy and freedom flourish the world over – because democracy and freedom are the only way we will have peace, security and dignity for all.
We are fortunate that Jamal had the foresight to found DAWN, because he understood that the U.S. has an outsized role to play in securing democracy and freedom for the people of the Middle East. The work today of DAWN seeks to reform U.S. policy to end support for the region's abusive governments, hold abusers – and their enablers, like the lobbyists in Washington – accountable, and give voice to all those who continue to demand democratic rule grounded in human rights for the region.
I thank you for joining me here this evening. I turn now to a short video about Jamal's vision, one that I believe we all share.