TKIF News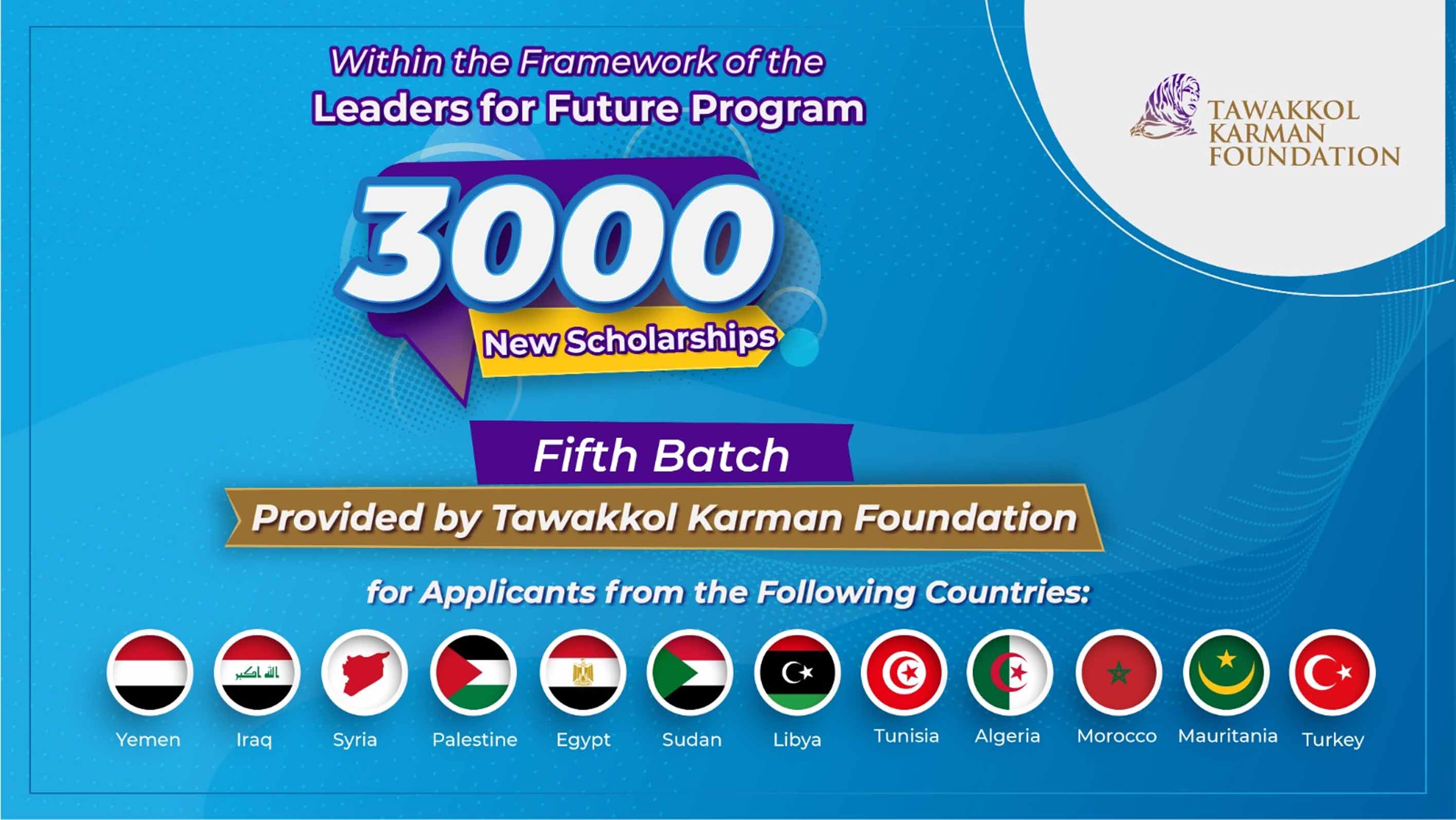 Leaders for Future Scholarships - 5th Batch
After the great success of the previous four batches of "Leaders for Future" program for Intensive English Language Diploma scholarship which beneficiaries exceeded 4,000, Tawakkol Karman Foundation opens applications for the fifth batch of the program,
which will accept 3,000 male and female applicants who hold the nationality of one of the following countries: (Yemen, Iraq, Syria, Palestine, Egypt, Sudan, Libya, Tunisia, Algeria, Morocco, Mauritania, Somalia, and Türkiye).
The aim of the program:
To qualify open-minded young leaders who believe in dialogue and seek to promote values ​​of coexistence and peace.
Developing applicants' skills enabling them to compete in the labor market and obtain the best job opportunities and help them meet entry requirements for university scholarships.
This program promotes tolerance and dissolving barriers between people, while preserving the culture of each society and respecting its traditions that align with freedom, justice, and human rights.
What the program includes:
English language courses for the candidates, starting with their current English proficiency level, until acquiring a TOEFL or IELTS certificate.
Job skills training, which will equip the candidates with job skills that will help them advance in their careers.
Democracy and peacebuilding, which includes training, lectures and workshops to promote the values ​​of democracy and peacebuilding among the beneficiaries of the program.
What the scholarship covers:
English placement test fees. (Test is compulsory)
100% of the English courses' fees.
TOEFL or IELTS (only one of them) test fees for only one time, according to the terms and conditions stated in the application guide.
Events, activities, and training courses fees.
What the scholarship does not cover:
Textbooks cost for both online and on-campus courses.
Any costs related to transportation, travel, or accommodation.
Internet subscription fees.
Visa application fees (Tawakkol Karman Foundation is not responsible for issuing Turkish visas or any other legal documents).
Requirements and eligibilities:
Applicants must have the nationality of one of the following countries: (Yemen, Iraq, Syria, Palestine, Sudan, Algeria, Tunisia, Somalia, Egypt, and Türkiye).
Applicants must have at least a high school diploma or its equivalent.
Applicants should not exceed the age of 50.
Applicants must be fully committed to the program and have the time to attend the courses (Student's commitment form attached).
 Applicants must attend the courses until the end of the program (Student's pledge form to attend the program until its end attached).
Applicants must commit to participating in all the activities, events, and training courses.
Applicants should not have previously benefited from the program in any of its previous batches, whether the applicant has completed the program, withdrew from it, or was excluded because of non-compliance with its terms.